Sarah Huckabee Sanders Trolls Media with "Mueller Madness" Russian Bracket
March 26, 2019
Sarah Sanders, aside from being pretty great at her job, shed the debilitating "I just want the media to like me" phobia held by far too many Republicans. From where I sit, it seems Sarah enjoys prodding the Democrats and their media with a hot poker. So last night, she tweeted this little number: Mueller Madness, a media bracket of all the talking bobble heads who completely FUBARed the Mueller Report.
Mueller Madness! Which of the angry and hysterical @realDonaldTrump haters got it most embarrassingly wrong?… https://t.co/ne49uph9XH

— Kayleigh McEnany (@Kayleigh McEnany) 1553563087.0
To see the zoomed in image, to get glowing gems (I'll drop in some screen shots), go to the New York Post link. The bracket appeared in this New York Post article:
Special counsel Robert Mueller has definitively put to rest the collusion theory of President Trump's election. That's not a little embarrassing for the many journalists, talking heads, celebrities and instant experts who spent more than two years furiously speculating about Moscow "pee-pee" tapes, treasonous rendezvous and the president's imminent arrest.

The president's haters no doubt wish to memory-hole collusion and move on to the next anti-Trump theory. But not so fast: We want to laurel the punditry "champion" — the one who peddled the most nonsensical nonsense, the wildest inanities, the weirdest theories and unsubstantiated stories.

That's where your brackets come in.
The media should never be allowed to forget this giant clusterf*ck. The Post is right, we need to make sure media is held to this fiasco they not only believed most ardently, they pushed on the rest of the country as if their wishful conspiracy was fact. While calling themselves honest journalists, reporters, and accusing anyone who disagreed with them as lunatics.
As promised, a couple of screen captures for your viewing pleasure: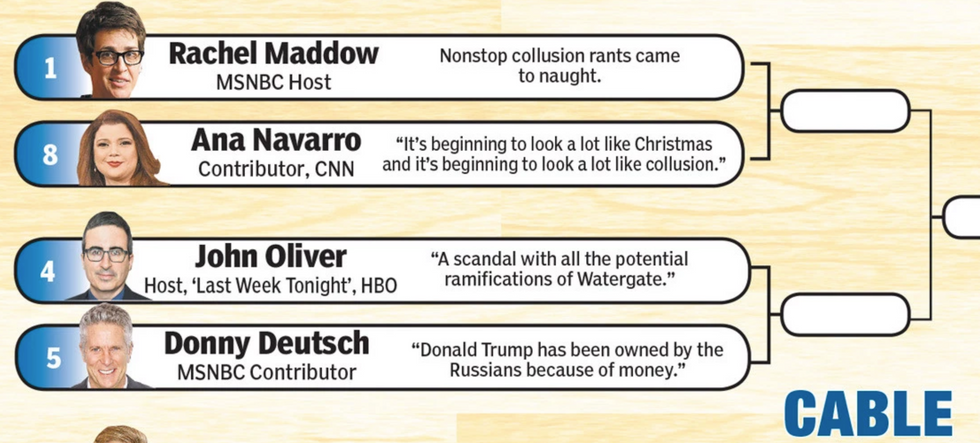 "Donald Trump has been owned by the Russians because of money" from Donny Deustch is gold. Well done, MSNBC.
And this: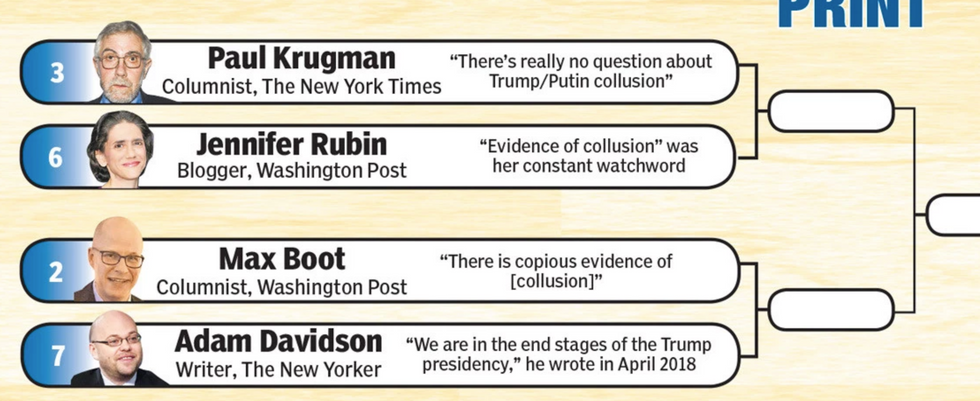 Remember CNN's apple vs. banana video? Watch it again knowing they pushed OMG RUSSIA as certainly as a school teacher instructs young children about gravity.
Who do you think wins the bracket?
NOT SUBSCRIBED TO THE PODCAST? FIX THAT! IT'S COMPLETELY FREE ON BOTH ITUNES HERE AND SOUNDCLOUD HERE.