Each day we overwhelm your brains with the content you've come to love from the Louder with Crowder Dot Com website.
But Facebook is...you know, Facebook. Their algorithm hides our ranting and raving as best it can. The best way to stick it to Zuckerface?
Sign up for the LWC News Blast! Get your favorite right-wing commentary delivered directly to your inbox!
Hollywood
'It never happened': Tim Allen denies 32-year-old allegation about his dong made in Pamela Anderson's new tell-all book
January 23, 2023
UPDATE: It's a thirty-two-year-old allegation. Brodigan forgot how to math this morning.
Actor Tim Allen allegedly showed off his power tool (say it with me now...MORE POWER) to Pamela Anderson on the set of Home Improvement. It's an allegation made in the actress's new book, and one the actor denies.
Picture it. The 90s. Grunge and the golden era of Hip Hop ruled the airwaves. A young Andrew "Dice" Clay made us laugh. And pre-teen boys across America snuck into their older brother's Playboy collection to see Pamela Anderson in the buff. Though at the time, she was "that blonde." People started to learn her name in 1991 when she landed a role on Home Improvement playing Lisa the Tool Time Girl.
The allegation made by Anderson in Love, Pamela is that on the very first day of filming, Allen flashed her his dingly dangly and said, quote, "it was only fair because he had seen [Anderson] naked. Now we're even."
On the first day of filming, I walked out of my dressing room, and Tim was in the hallway in his robe. He opened his robe and flashed me quickly — completely naked underneath.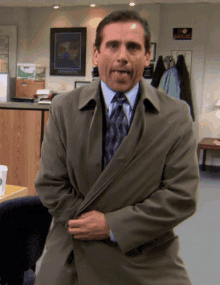 She then made twenty-two more appearances after the alleged incident. Allen issued a statement denying the claim.
No, it never happened. I would never do such a thing.
It is a he said/she said situation that allegedly happened thirty-two years ago, being used as the lead blurb to promote a book coming out at the end of the month. People are free to decide amongst themselves who they believe. You can assume the media will blindly believe Anderson over Allen, who they already hate. You know, what with the way he has a different political opinion than them and routinely mocks what they believe. Allen's mere existence makes them cry.
Allen playing Santa Claus was enough to send the left into meltdowns. This story involves his alleged penis.
What I will say is that, if the story is truthy, the actor is lucky it did not happen while Anderson was married to Motley Crue drummer Tommy Lee. Lee at the time would sometimes act in a brash manner. And I don't think Allen or the live studio audience would appreciate where the jackhammer wound up.
Editor's Note
LwC is on Substack now! Each day we overwhelm your brains with the content you've come to love from the Louder with Crowder Dot Com website.. but algorithms hide our ranting and raving as best they can. The best way to stick it to Big Tech? Subscribe to For the Content!
Pure Detroit (Pure Michigan Parody) | Louder With Crowderyoutu.be