Each day we overwhelm your brains with the content you've come to love from the Louder with Crowder Dot Com website.
But Facebook is...you know, Facebook. Their algorithm hides our ranting and raving as best it can. The best way to stick it to Zuckerface?
Sign up for the LWC News Blast! Get your favorite right-wing commentary delivered directly to your inbox!
Articles
'Last Man Standing' Mocks Leftists' Failure to Understand Capitalism
February 24, 2019
Any of you who've seen Last Man Standing will be familiar with the character of Ryan. He's the granola-munching soy-boy son-in-law of Mike Baxter. Well, on the latest episode, Comrade Ryan had a rude awakening. With Mike's help, he came to the shocking conclusion he's...gasp...a capitalist.
Enjoy:
Ryan: I have an idea on what to do with the profits.

Mike: Oh, boy, here we go.(Russian accent): What's on your mind, comrade?

Ryan: I want to renovate the upstairs storage area and turn it into more retail space.

Mike: (Regular accent): Wait just a minute. That's not a dumb idea.

Mike: Let me get my head around this. You want to take your profits and pour them back into your business to expand.(Chuckles) There's a word for that. Capitalism. Which makes you a capitalist.

Ryan: No. That makes me a businessman. And-and not all businessmen... I am a good person.

By growing the business, I am creating more jobs, which helps my employees and the community.

Mike: Hmm. You know what I'm hearing right now? "Blah, blah, blah, blah, blah, capitalist."
There's a great deal of truth in this bit. Most lefties are part-time capitalists and they don't even realize it. If you believe your money and property belong to you and you can do with them as you please, you're a capitalist. Plain and simple.
Where lefties get things wrong is when they think other people's property belongs to them as well. People who believe that call themselves socialist. I call them something else: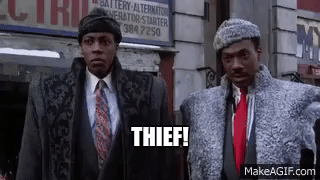 Last Man Standing is one of the few funny shows left on the air. God bless the folks who make it, and God bless capitalism.
It's much better than the alternative:
NOT SUBSCRIBED TO THE PODCAST? FIX THAT! IT'S COMPLETELY FREE ON BOTH ITUNES HERE AND SOUNDCLOUD HERE.