Each day we overwhelm your brains with the content you've come to love from the Louder with Crowder Dot Com website.
But Facebook is...you know, Facebook. Their algorithm hides our ranting and raving as best it can. The best way to stick it to Zuckerface?
Sign up for the LWC News Blast! Get your favorite right-wing commentary delivered directly to your inbox!
Articles
NYT Deletes Tweet About the Sexual Assault Charge Against Joe Biden
April 13, 2020
Conspicuously quiet about the sexual assault charge levied against Joe Biden is the New York Times. Actually, conspicuously quiet about the sexual assault charge are most of the media. Odd, since they are usually more lippy about these charges (see The Ultimate Timeline on the Brett Kavanaugh Accusation Circus and WATCH: CBS Forced to Expose the Real Brett Kavanaugh Bombshell). But not so much when they are against the Democrat nominee for president. Though the New York Times did finally break its silence. On Easter. When it assumed most people wouldn't be paying attention. Something tells me many more people will be paying attention now.
The internet is forever, fam. Here's the tweet in question. Here's the tweet in question that was meant to DEFEND Joe Biden.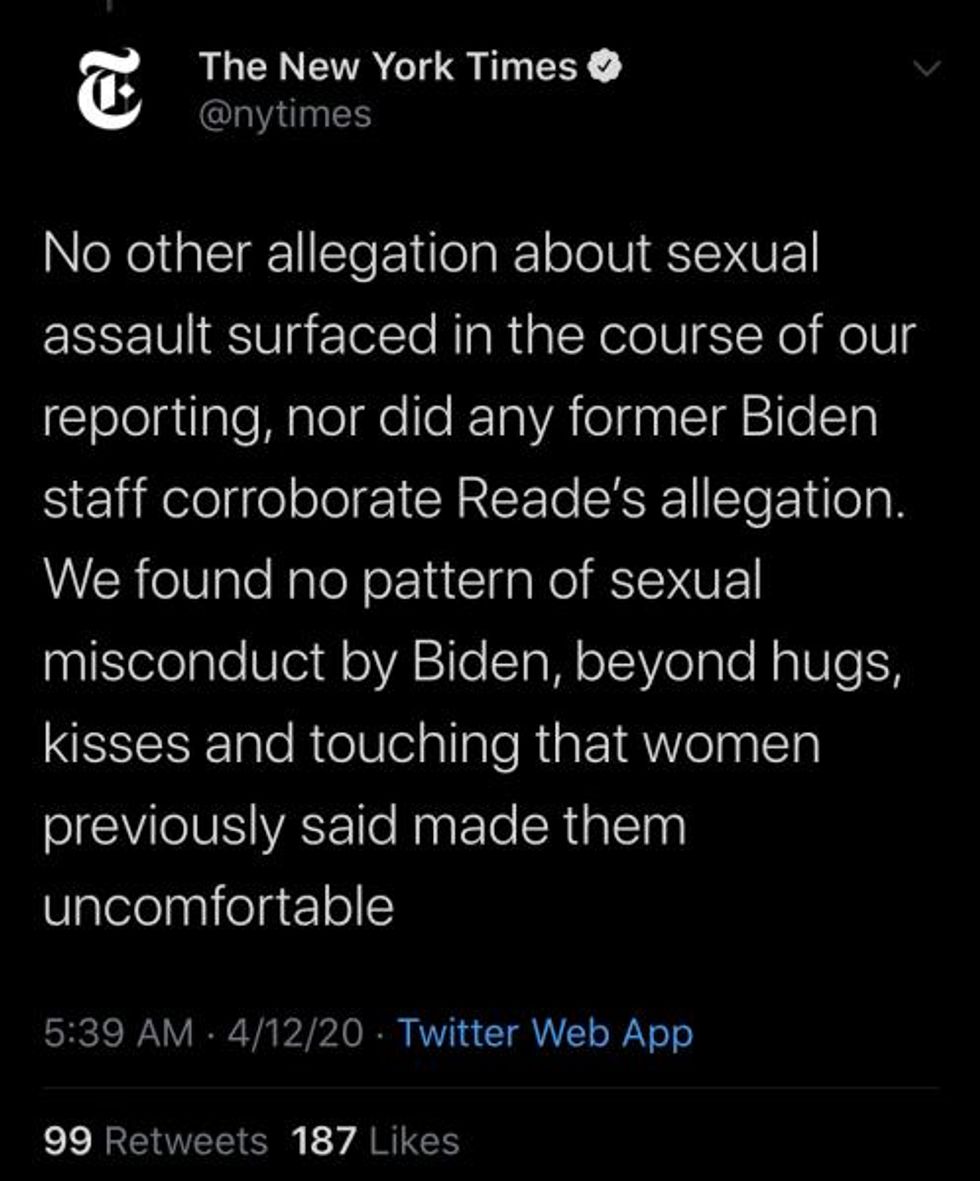 No other allegation about sexual assault surfaced in the course of our reporting, nor did any former Biden staff corroborate Reade's allegation. We found no pattern of sexual misconduct by Biden, beyond hugs, kisses and touching that women previously said made them uncomfortable.
There is no pattern of misconduct. Except for all the huggies and kissies. Not to mention the touchies. Touchies ... that women said made them uncomfortable. Other than those things, there is no pattern of misconduct. Long story short, #believeallwomenexceptforthiswoman.
To be clear, someone accusing Biden of this doesn't make it automatically true. He deserves a chance to defend himself and due process. The problem is leftist media like the New York Times don't think that if the accused is a conservative. They also think we're idiots who can't see the grossly different way they cover these stories.
NOT SUBSCRIBED TO THE PODCAST? FIX THAT! IT'S COMPLETELY FREE ON Apple Podcasts HERE.