Each day we overwhelm your brains with the content you've come to love from the Louder with Crowder Dot Com website.
But Facebook is...you know, Facebook. Their algorithm hides our ranting and raving as best it can. The best way to stick it to Zuckerface?
Sign up for the LWC News Blast! Get your favorite right-wing commentary delivered directly to your inbox!
International
Watch: North Korean Soldiers Perform for Supreme Leader by ... Smashing Bricks on Themselves?!
October 15, 2021
I've been privy to plenty of military ridiculousness in my time. I've watched soldiers use trash bags to collect exhaust samples, been a member of a detail to put a Port-a-John atop a small mountain, and I've recorded a video of a platoon "dancing" to the Harlem Shake. But the North Korean army is a new breed of goofy in a video recently posted to Twitter.
Breaking bricks in myriad ways and whooping each other with wooden staffs, these North Korean weirdos go ham in a demonstration for Kim Jong Un, who looks mildly entertained by their antics. And who wouldn't be? I'm laughing at them right now. I'm also wondering how many of these people are on drugs to keep themselves from passing out after ramming their heads through bricks and screaming bloody murder after having their arms and hands smashed with sledgehammers. Just sayin', these guys are going to be feeling this stuff for days. That is if they don't die first. I wonder how many commie-loving kiddos here in the states would like to be a part of this? I'm sure even this wouldn't be enough to convince them to renounce their Democratic Socialists of America membership. If I had to do this, I would get the hell out of Dodge, right-quick and in a hurry.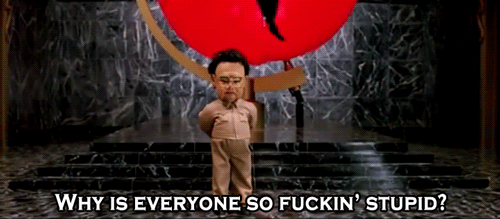 Let's be honest for a moment, though. Kicking and punching through bricks, having your buddies wail on you with sticks, and screaming out stereotypical karate sounds--albeit entertaining and worthy of some chuckles--does very little to show off combat fitness. I can't even remember the last time I had to fight off a handful of 15th century assassins while I was deployed. Of course, it wouldn't have mattered because we had HMMWVs (humvees for you civilians), Bradley Fighting Vehicles, and Abrams tanks, all equipped with big guns.
Needless to say, if this is what North Korea has, I think we're safe for now.
Get your content free from Big Tech's filter. Bookmark this website and sign up for our newsletter!