Each day we overwhelm your brains with the content you've come to love from the Louder with Crowder Dot Com website.
But Facebook is...you know, Facebook. Their algorithm hides our ranting and raving as best it can. The best way to stick it to Zuckerface?
Sign up for the LWC News Blast! Get your favorite right-wing commentary delivered directly to your inbox!
Culture Wars
Porn startlet gets CANCELLED from nudie mag, mushroom company over offensive pro-Hamas tweets
October 10, 2023
Palestinian adult movie ingénue Mia Khalifa finds herself on the wrong end of consequence culture. Her pro-Hamas tweets in the wake of the terror attacks against Israel -- the ones where Hamas raped and murdered women and children -- were so offensive that even Playboy and an illicit drug company had to say, "Whoa, too far lady."
I'd be lying if I said was familiar with Khalifa's work. Not in a pious way. I'm from an old-school generation where we didn't bother learning porn stars names because they didn't matter. However in the name of context, here is one of her videos.
These are the two most offensive tweets that, as one Twitter user said, prove she literally had the brains f*cked out of her. It was deleted while I was writing this.

And then this tweet that has also since been deleted. Unclear is how many women were being murdered and raped by the freedom fighters in this renaissance painting. Though as I looked more closely, it would appear they are just firing at police.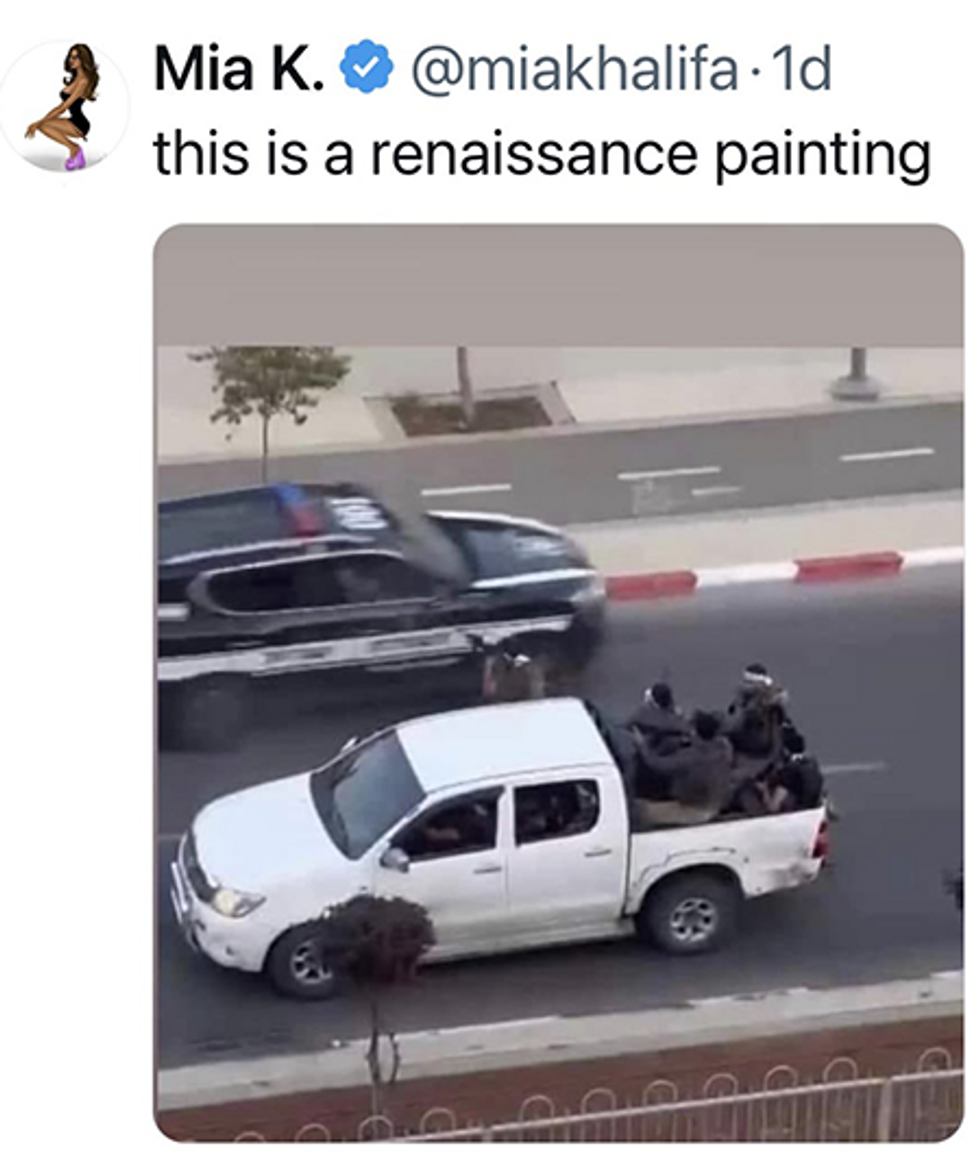 It was too much for Mia's sponsors. Playboy, which is so woke they put naked men on the cover of their magazines, said in a statement to their other "creators" that while they support free speech, they don't support hate speech.
"Mia has made disgusting and reprehensible comments celebrating Hamas' attacks on Israel and the murder of innocent men, women and children."
Odd because when progressives say things like "hate speech" they mean any opinion that the Left disagrees with. And the Left agrees with Mia. Just ask MSNBC and members of the Joe Biden Democrat Party. I guess there's a first time for everything!
Khalifa also got fired from a Netherlands company that sells psychedelic mushrooms. Yes, the CEO of a company that sells drugs made a stronger statement against a porn star than Joe Biden made against Democrat members of "the Squad" who share the same opinions about Hamas.
Remember, this isn't CANCEL culture. This is CONSEQUENCE culture. Mia Khalifa has a right to express her opinions. That doesn't entitle her to jobs selling drugs and whatever content she was creating for Playboy.
><><><><><><
Brodigan is Grand Poobah of this here website and when he isn't writing words about things enjoys day drinking, pro-wrestling, and country music. You can find him on the Twitter too.
Facebook doesn't want you reading this post or any others lately. Their algorithm hides our stories and shenanigans as best it can. The best way to stick it to Zuckerface? Sign up for our DAILY EMAIL BLASTS! They can't stop us from delivering our content straight to your inbox. Yet.