Each day we overwhelm your brains with the content you've come to love from the Louder with Crowder Dot Com website.
But Facebook is...you know, Facebook. Their algorithm hides our ranting and raving as best it can. The best way to stick it to Zuckerface?
Sign up for the LWC News Blast! Get your favorite right-wing commentary delivered directly to your inbox!
Articles
Loser Boyfriends Watch Their Girlfriends Get Catcalled. Notice Something?
July 30, 2015
The Cosmopolitan put out a video this week showing men what happens to their girlfriends when they're not around. Surpriiise! Catcalls. Lots of them. But there's soooo much happening in this video. Check it out:
First of all, ladies. You can do better than this. Every boyfriend in this video is a total wimp. They're you without breasts. Get a guy who will not, NOT, tolerate even seeing this. If you being catcalled (well, the real ones) doesn't outrage him to the point that he's ready to flatline a Cosmo producer for putting you through this... he's not worthy. Have some self-respect.
At least that last punk had the wherewithal to tell his girl, "You're somebody's daughter, you know, somebody's sister. I'm sure if somebody did that to one of their -- their mother or their cousin or something they wouldn't appreciate it." Wouldn't. Appreciate. It. Amigo, reach down for me. Feel that empty void? Yeah, that's where your balls used to be.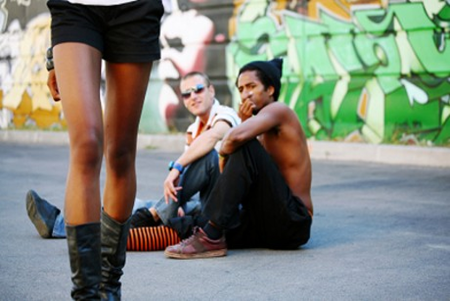 Also, did you notice anything about the "men" who did the catcalling in this clip? Regardless of the race of the woman walking down the street, every catcall came from a black man. Every. Single. One. Is it racist to even point that out? No. It's a cultural reality. 
Could Cosmo not find a single white guy to catcall? Are they racists, themselves? That said, there's an unspoken rule in our culture about pointing out any type of failure in the black community. We're afraid of being called racists, afraid of the media onslaught, afraid of the truth. And it needs to stop. Problems can't be solved until we acknowledge they exist. In 2011, 85% of rapes in New York City were committed by blacks and Hispanics. The majority of murder, manslaughter, rape, robbery, and aggravated assault crimes from 2011-2013 were committed by black males. That's a problem. And it's a problem that starts with the not having enough respect for women in the first place.
Finally, some of these cat calls were wild inappropriate, yes. – like the one where the guy yells "nice t*ts!" – But some of them, were perfectly polite. A man asking how you "get your hair so nice" is not being aggressive, nor inappropriate. He's trying to start a conversation. Just like the fallacy that is "rape culture", feminists need to stop conflating the issues here. It does a gross disservice to the real victims everywhere.
Think we're off-base? Share your thoughts with us on Twitter, or in the comments below.
P.S. Months ago, during the first viral 'cat-call' video, we asked ourselves, what happens when you cat-call real women? Wonder no more...