Keith Olbermann Launches Insurrection-Adjacent Attack on SCOTUS, Includes Sexist Dig at Amy Coney Barrett
June 23, 2022
The Supreme Court struck down a centuries-old New York gun law on Thursday, and Keith Olbermann is two tacos short of a combination platter. He also called for an insurrection against the Supreme Court. Or that's what Twitter and the media would be calling it if Tucker Carlson said the same things and SCOTUS voted in the other way. Definitions of words have been abused in 2022 worse than Biden abuses "whoever smelt it, dealt it."
My associate Joseph is working on an in-depth look at NYSRPA v. Bruen. [NOTE: It can be found here]. The short and curlies of it are that New York had a law that said you couldn't get a concealed carry license without proving that you needed in for self-defense. SCOTUS ruled today that it was unconstitutional. Reaction from the left is the use blend of ignorance and misinformation about guns and Supreme Court decisions. It's all been low energy. I'm hoping they are saving their meltdowns for the overturn of Roe v. Wade.
Not Olbermann. He wants to blow up the entire institution. In a tweet we were so proud of, he quote retweeted himself.
No argument about the decision was provided. But it's Olberman. This is the same specimen who claims the second amendment doesn't grant you the right to own a gun.
He also launched a sexist attack on Justice Amy Coney Barrett, the one female justice he decided to isolate as a "paralegal." No surprise. He's a white male liberal. That's who white male liberals are.
KO is trending over all the people mocking him as a lunatic. Though, according to Twitter, he's trending because he "appears to promote the legal theory of nullification by Tweeting on Thursday that it is 'necessary to dissolve' the Supreme Court."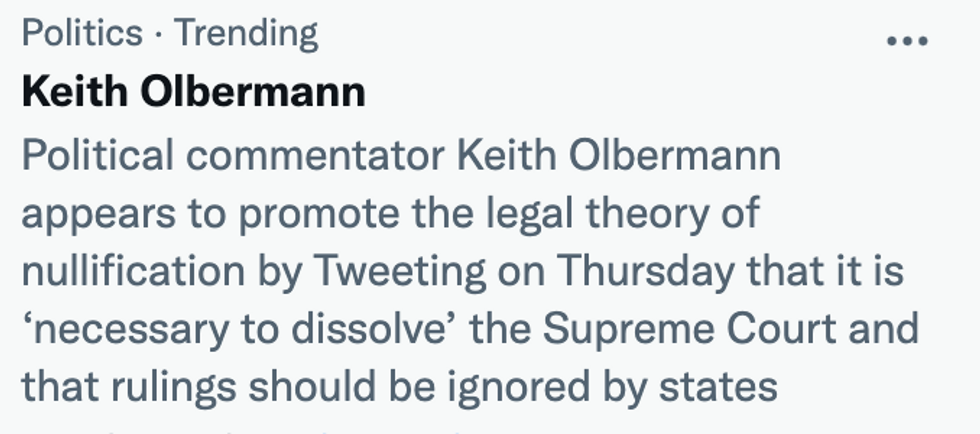 There is still one more day of Supreme Court decisions on Friday, with the big one being the effective overturn of Roe v. Wade. Please join me in praying to the deity or deities of content that Olbermann gives us a video reactiing to that one.
The Louder with Crowder Dot Com Website is on Instagram now!Follow us at @lwcnewswire and tell a friend!
LIVE From the Supreme Court! BIG Slobs, BIG Mad! | Louder With Crowderyoutu.be