Each day we overwhelm your brains with the content you've come to love from the Louder with Crowder Dot Com website.
But Facebook is...you know, Facebook. Their algorithm hides our ranting and raving as best it can. The best way to stick it to Zuckerface?
Sign up for the LWC News Blast! Get your favorite right-wing commentary delivered directly to your inbox!
Articles
Watch: Karine Jean Pierre FREAKS OUT on Doocy when asked to call the Biden Border Crisis a "crisis"
September 22, 2023
Judging by the way Karine Jean Pierre, in her role as the face of the Biden Administration, had a hissy fit on Doocy, I think the Biden border crisis is getting to the Biden Administration. Even if they won't call it a crisis. She lashed out at poor Doocy for asking a question in his role as a reporter.
I know a lot of you are thinking, "Brodigan, hasn't the Biden border crisis been going on for as long as we've had a Biden Administration?" Literally yes. Ever since illegal migrant seekers crossed over WEARING Joe Biden t-shirts.
That was two months after Biden was sworn in. This was two days ago:
It sets the stage for KJP melting down on Doocy. Over a border crisis that the intrepid reporter is now on his second Biden press secretary asking questions about the Biden border crisis. If not a crisis, what would the Biden administration call it?
Dafuq if Karine Jean-Pierre knows.
Shout out to the captioning skills of our friends at Townhall. It helps drive home what a f*cking child KJP is.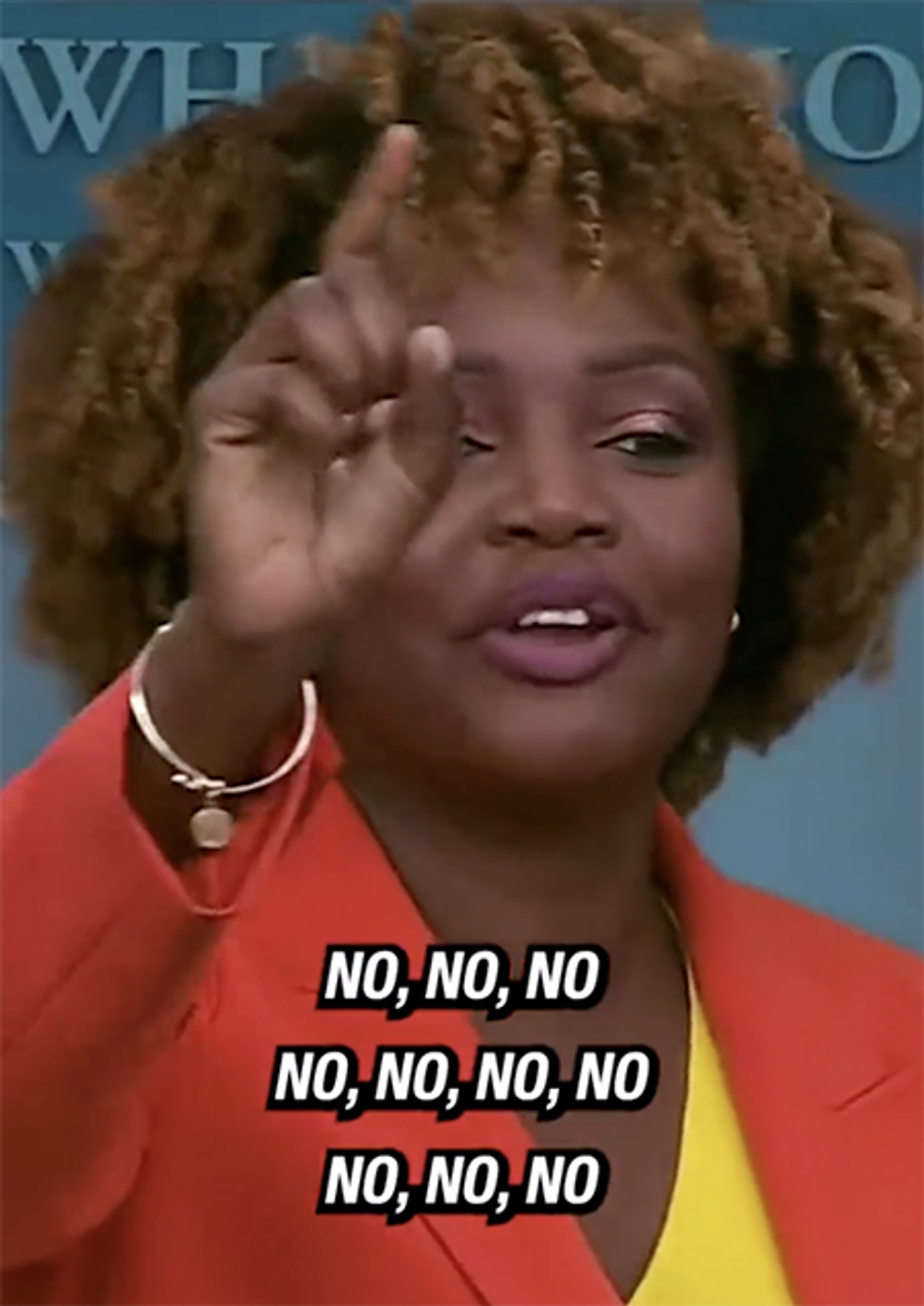 Critics, however, will tell you it's not a crisis and has never been a crisis. A "crisis" would imply it's not working the exact way the people who run Biden want it to. We go now to vice-president Joe Biden, sitting next to future Homeland Security Secretary Alejandro MayorkASS, bragging about his theory of white people being replaced.
Remember, "white replacement theory" is racism. A Democrat sharing his theory about white Americans being replaced is equity.
The problem is they were only supposed to replace people in small conservative towns along the southern border. Once the burden of illegal migrants was taken off those small towns being overwhelmed and being placed on progressive cities that had been claiming for decades they were sanctuaries for illegals, those progressive cities sound more and more like Tucker Carlson and Ann Coulter.
The progressive cities are angry at the Biden Administration because the border crisis was not supposed to be in THEIR backyard. Hence Karine Jean-Pierre acting like she could use that emergency bottle of tequila that Jen Psaki used to keep in the desk.
><><><><><><
Brodigan is Grand Poobah of this here website and when he isn't writing words about things enjoys day drinking, pro-wrestling, and country music. You can find him on the Twitter too.
Facebook doesn't want you reading this post or any others lately. Their algorithm hides our stories and shenanigans as best it can. The best way to stick it to Zuckerface? Sign up for our DAILY EMAIL BLASTS! They can't stop us from delivering our content straight to your inbox. Yet.