Each day we overwhelm your brains with the content you've come to love from the Louder with Crowder Dot Com website.
But Facebook is...you know, Facebook. Their algorithm hides our ranting and raving as best it can. The best way to stick it to Zuckerface?
Sign up for the LWC News Blast! Get your favorite right-wing commentary delivered directly to your inbox!
Hollywood
Idiot Mark Ruffalo Accuses Pence of 'White Male Supremacy' for Debating Kamala Harris
October 08, 2020
I wanted to call this "Hollywood Douche Mansplains Kamala Harris Getting REKT by Mike Pence," but Facebook might call that clickbait. Kamala Harris did not have a good evening during the vice presidential debate, so you just knew the hot takes making excuses for it would be to accuse Pence of being sexist over the way he *checks notes* disagreed with his opponent at a debate. Some of the hot takes would have even found a way to blame it on Harris having more melanin in her skin than the mayonnaise looking vice president. But Mark Ruffalo really white knighted the f*** out of it with this mind-numbingly idiotic tweet.
Just going over it all in my head. The way Mike Pence constantly interrupted and spoke over @KamalaHarris was the prime example of white male supremacy and its common dismissal and disrespect for black woman.
— Mark Ruffalo (@MarkRuffalo) October 8, 2020
What's ironic is that if I could think of one .gif to describe how bad last night was for Kamala Harris? It would be of Ruffalo's one memorable performance: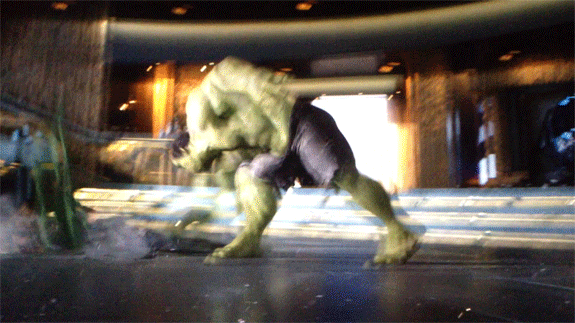 I'm curious what these perma-offended woke twats think Pence was supposed to do DURING A DEBATE. What response would be acceptable?
Excuse me, Ms. Moderator. But I would like to give my beautiful and brave equal on this stage 30% more speaking time to make up for the seventy cents on the dollar womyn make compared to cisgender males like myself. Also, my whiteness shames me. Just thought I should throw that out there. Come to think of it, we can all agree than men have spoken enough in this country, so I'll just sit here in silence and ponder how I can be a better ally.
Senator Harris is running to be the vice president of the United States. If people think she is so made of brittle candy glass that she can't handle disagreements at a debate — a debate where she did more than her share of interrupting because IT WAS A DEBATE — then she is not qualified to be a heartbeat away from the leader of the free world. Also, the criticism rings hollow from leftist d!ickheads like Ruffalo who are going to be mansplaining their asses off when Amy Coney Barrett shows up for her supreme court hearing.
Kamala DODGES Question On The Idiotic 'Green New Deal' | Louder With Crowderyoutu.be
Not subscribed to the podcast?Fix that! It's completely free.