Each day we overwhelm your brains with the content you've come to love from the Louder with Crowder Dot Com website.
But Facebook is...you know, Facebook. Their algorithm hides our ranting and raving as best it can. The best way to stick it to Zuckerface?
Sign up for the LWC News Blast! Get your favorite right-wing commentary delivered directly to your inbox!
Comedy
John Cleese Asks Question That's Going to Cause Liberal Heads to Explode
July 09, 2020
It would appear John Cleese felt some of his fellow countrymen were having too much fun on Twitter. Particularly, fun at the expense of whiny leftists (see RICKY GERVAIS MOCKS MAN WHO IDENTIFIES AS EIGHT-YEAR-OLD IN 'AFTER LIFE' and J.K. ROWLING STRAIGHT-UP SAVAGED ONE OF HER CRITICS OVER HARPER'S OPEN LETTER ON CANCEL CULTURE). He asked a hypothetical question that could easily get him canceled, if he weren't 80-years-old and not giving a bollocks either way. Again, make sure you read this in his voice for the full comedic affect.
Still trying to understand recent changes... If I decide to identify as a woman, does that mean that my wife would… https://t.co/3zwbEsBimy

— John Cleese (@John Cleese) 1594245953
First of all, that's an excellent question, one I'm honestly not sure how to answer. Like, would his wife suddenly become a lesbian? What if his wife's religion forbade her from being a lesbian? Plus he would be taking the choice away from her and forcing her into a life she doesn't want, which doesn't sound very feminist of him.
Second, I'm fairly certain he doesn't even care about the political debate as much as he was just looking to take the piss out of the perma-offended woke twats who have been going after him for the past week. Which, if that's the case, dude!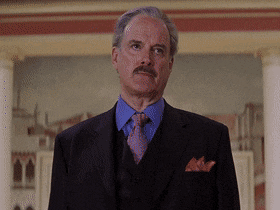 As for the political debate, I think there are more important debates for us to be having. More contentious debates than anything involving an -ism, an -ist, or what words people are allowed to say and when they are allowed to say them. A debate that has been raging for decades. Let's settle this:
Best Monty Python movie?

— Brodigan (@Brodigan) 1594305761
BONUS QUESTION: If your answer isn't The Meaning of Life, how do you live with yourself being so wrong about something? Hit me up in the comments with that, as well as all your favorite Python quotes.
SJWs Try to Cancel Dave Chappelle! | Louder with Crowderyoutu.be
Not subscribed to the podcast?Fix that! It's completely free.