Each day we overwhelm your brains with the content you've come to love from the Louder with Crowder Dot Com website.
But Facebook is...you know, Facebook. Their algorithm hides our ranting and raving as best it can. The best way to stick it to Zuckerface?
Sign up for the LWC News Blast! Get your favorite right-wing commentary delivered directly to your inbox!
joe biden
WW3 Fail: Biden Calls for Putin Regime Change, Needs WH to Clean Up His Whoopsie for Second Time in 24 Hours
March 26, 2022
I could have sworn we went over all of this yesterday. Joe Biden told the 82nd Airborne they'd be seeing Ukraine soon. It sounded like he was sending them into combat. The White House, in record time, corrected it saying that, no, the President did not mean to say what he sounds like he said. Biden did it again today. He called for regime change in Russia. SPOILER: Regime change = start of WWIII.
"For God's sake, this man cannot remain in power."
This man, meaning Putin. When the president of the United States utters the words that a man "cannot remain in power," that is a clear call for regime change. It was so clear, the headlines quoting Biden accurately said "Joe Biden Calls for Regime Change in Moscow as He Likens Invasion to WW2 Horrors." Those headlines are rapidly being changed to "White House Walks Back Biden's Stunning Putin Remarks: President Was Not Discussing 'Regime Change'."
Confused? Befuddled? Can't understand how a man who can barely remember where he is or who pooped in his pants was elected leader of the free world? Imagine how the planet feels right now.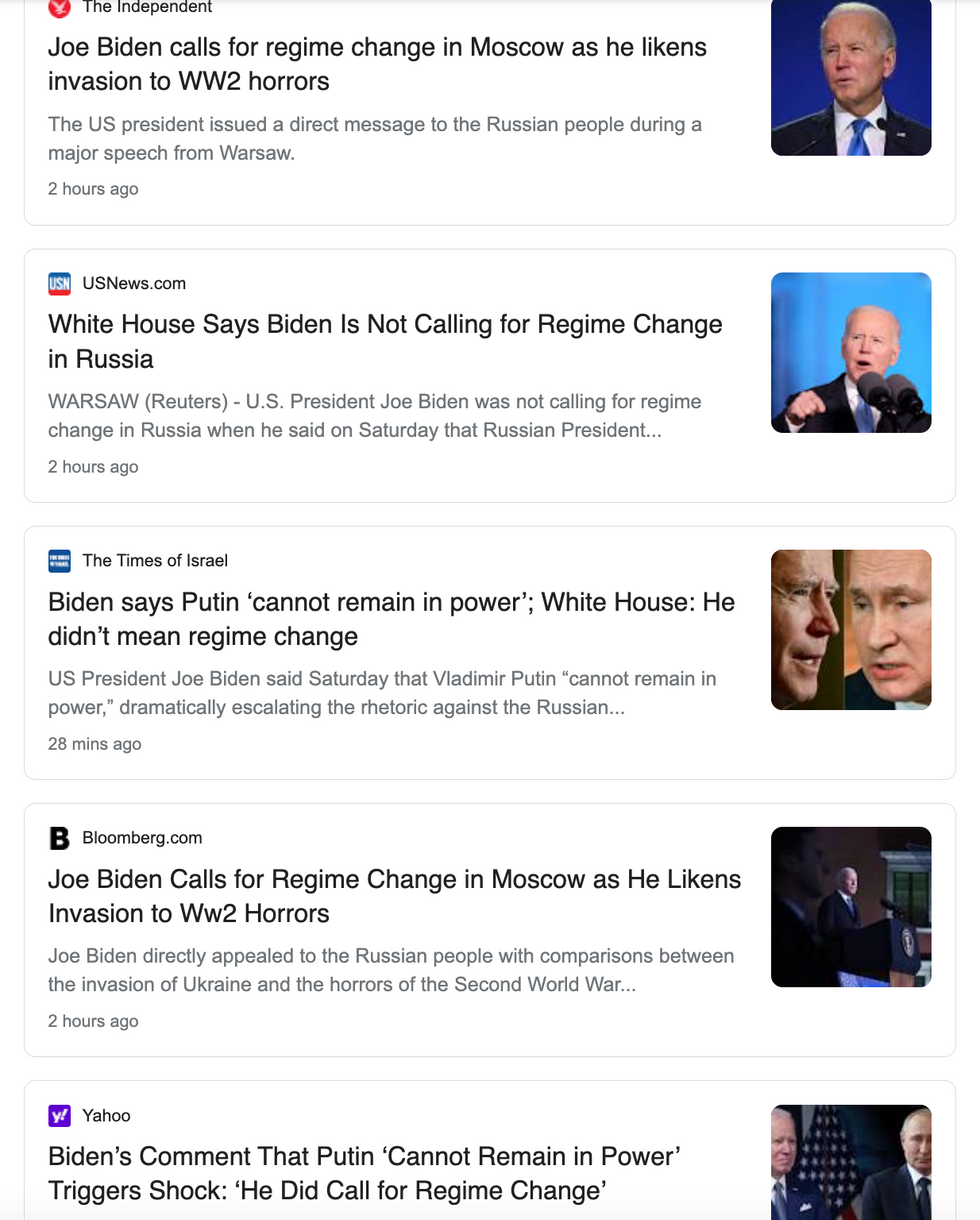 When Lindsey Graham called for taking out Putin, he was criticized for it. Because it's a stupid thing to say, at least out loud. Calling to take out any world leader, even one as villainous as Vladimir Putin, makes world events worse. The "precipice" part gets removed from being on the precipice of World War III. It's okay to criticize Lindsey Graham. He's a Republican. Joe Biden saying something similar means it's time to circle the wagons around him.
Like Reagan, Biden Is keeping tyrants guessing.
— Mika Brzezinski (@morningmika) March 26, 2022
This post feels like a rerun from yesterday, so I'll close with the same question to the audience. The White House has come out and said the line about removing Putin was ad-libbed. Biden is also very old, and possibly senile. Was this another case of Biden's verbal diarrhea? The second one in two days? Or did Biden AGAIN forget the part where they said, "Now, Joe, we've been over this. Don't say anything out loud."
Keeping tyrants guessing is one thing. You shouldn't do it to the voters.
The Louder with Crowder Dot Com Website is on Instagram now!Follow us at @lwcnewswire and tell a friend!
New World Order? What Exactly Is Joe Biden Talking About? | Louder With Crowderyoutu.be