Each day we overwhelm your brains with the content you've come to love from the Louder with Crowder Dot Com website.
But Facebook is...you know, Facebook. Their algorithm hides our ranting and raving as best it can. The best way to stick it to Zuckerface?
Sign up for the LWC News Blast! Get your favorite right-wing commentary delivered directly to your inbox!
Politics
'He's F***ing S*** Up': Americans Speak Out on What They'd Tell Joe Biden and It's Brutal
June 26, 2022
For a guy who was supposed to fix America, Americans think Joe Biden sucks at doing so. Or he's not even trying. Poll after poll shows Joey is the least popular president of all time, and that includes a guy who was impeached twice. This man on the street interview is going viral seeing what average Americans, in what looks to be Times Square (a Democrat stronghold), think of our current president who critics say may have dementia.
"I'd tell him to get out of office. He's f*cking sh*t up."
This is true. But not only is he f*cking sh*t up, he also refuses to take responsibility for any of it. More and more voters are holding him responsible, including those from his own party.
"He's old. He's falling off of bikes and sh*t."
Correct. When you have already earned a reputation for being an easily confused, discombobulated, looking-like-you-don't-know-where-you-are old coot in public, falling off of your bike is a bad look. It doesn't instill confidence in the American people.
"It's over man. Give it up."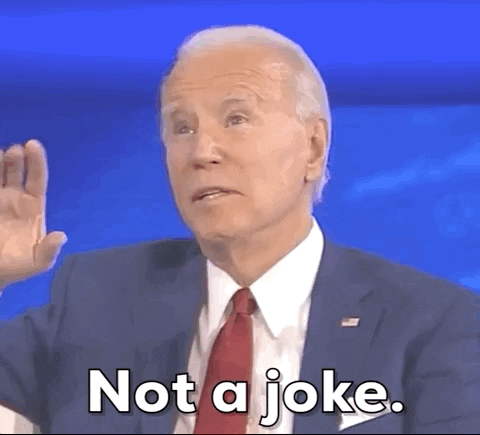 The second man felt the best thing Joe Biden could do is let Donald Trump, who he believes did more for the black culture, back in office. Odd, since everything the media reports about Trump says the exact opposite. Sure, during the Trump administration black employment was at an all-time low, and Trump was the first Republican to make actual inroads with non-white voting blocks.
Yet, whenever Trump's name is mentioned in the media, it usually includes an assortment of -isms, -ists, and -phobias. Though, in the media's defense, they say the same about anyone who has a different opinion than them.
The Louder with Crowder Dot Com Website is on Instagram now!Follow us at @lwcnewswire and tell a friend!
Do They Think a Heartbeat is a Life? | Talking With Peopleyoutu.be