Joe Biden Releases Video Explaining Why He's Such a Creep, Offers Excuses, No Apologies
April 03, 2019
I'd say it's unreal but it isn't. Joe Biden released a video of himself explaining the reason he's been such a creep is that he was just showing support. But, you know, since times are changing and people have boundaries about now wanting to be groped, he's going to stop sniffing women's hair. That's not what he said, but I'm reading between the lines. Watch this:
"Social norms are changing."
Question: when has Joe Biden sniffed a man's hair and nuzzled a man's neck to "show support"?
It's never been socially normal to hold little girls around the shoulders, from behind, and sniff their hair or kiss their head. It's never been socially normal to sniff a woman's hair if that woman is not your romantic partner. It's never been socially normal for a man to nuzzle an underage girl.
This is not normal, socially or otherwise: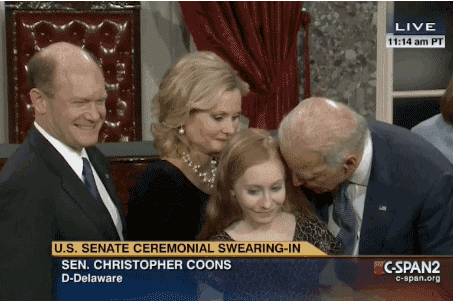 Notice also Joe Biden offers zero apologies for acting like such a creep for what I can only assume is all of his life. He's acted like a creep brazenly, too. In front of fathers, mothers, and husbands. On camera. Earlier today on Twitter I asked a simple question: has any man, ever, told Joe Biden to stop acting so inappropriately with women/girls? You know, as part of that "men holding each other accountable" thing I've been hearing about.
This was the one concrete response I got:
Which isn't to say there haven't been men who've told Creepy Joe to keep his hands to himself. I get that. An absence of evidence here doesn't mean there's no evidence, sure. So the question still stands, and I'd still like an answer to it. Because men frequently say they don't want women on the front lines with them because they have a natural tendency to defend women. Great. But what about men who are openly creepy and making their wives and daughters visibly uncomfortable. Where are those guys defending their women? It's not a war here, it should be much simpler to say "don't touch my daughter/wife like that," no? Because aside from this Sessions hand swipe, I'm not seeing much evidence of men acting chivalrous on behalf of their ladies. Is it just Democrat men being chicken shits? What's the deal here? Help a woman understand.
NOT SUBSCRIBED TO THE PODCAST? FIX THAT! IT'S COMPLETELY FREE ON BOTH ITUNES HERE AND SOUNDCLOUD HERE.