Alleged 'Methodist' University Debuts Drag Queen Jesus. You Know, For 'Art.'
June 07, 2022
The left's domination and destruction of all that is good and right in the world continues almost unabated. One might think, if there was one thing a religious institution might want to prevent--if there was going to be one thing, only one thing, they would not want to occur--they would choose to draw the line at blasphemy. NOPE!
Emory University, a Methodist institution, recently allowed a display created by a graduating senior. Tommy Greenler created a self-portrait--a photograph--depicting himself as Jesus Christ on the cross. If that were not distasteful enough, in the adjoined text, Greenler speculates about Jesus' sexuality, arguing that Jesus was gay.
Campus Reform reports that the caption read, "Why did [Jesus] spend much of his adult life living with 12 male admirers? Why was John the only disciple present at the Crucifixion, when many gospels confirm that Jesus loved him in a special way? [...] I cast myself as Jesus [...] [and] I hope that viewers will find this photograph confrontational, as I have had to confront being called a sinner my whole life for something I believe that Jesus of Nazareth and I may have had in common."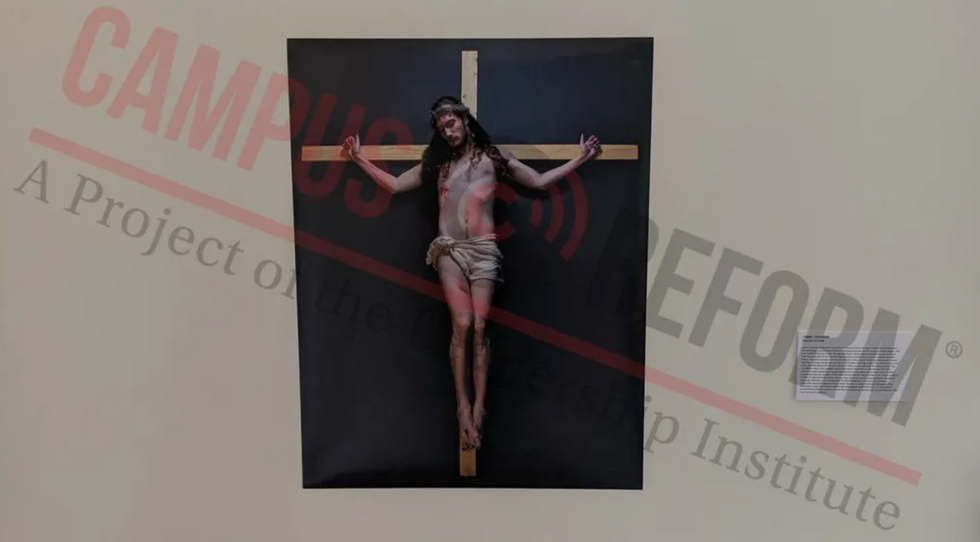 For someone who is attempting to present himself as knowledgeable about scripture, he seems to forget that all people are sinners, and God calls for all of us to repent. The difference is that he's not repenting. He's attempting to justify his sins. That's not good.
But more importantly, an allegedly Christian university is displaying this nonsense, effectively allowing the entire church to be smeared by a student looking to tear down Christ just to make himself feel better.
Campus Reform also reports that this student isn't new to headlines. They reported on him last year when Emory University allowed him to perform in an annual drag show in the university's chapel.
All of this sounds completely counter to traditional Christianity because it is, and both the university and Greenler can hardly be described as Christian.
This is just another example of the left's mission to infiltrate and break down the church. Racism, suicide, disarmament, queerness: this is the leftist church that will eventually devour the entire Judeo-Christian tradition if people don't begin to fight back.
The Louder with Crowder Dot Com Website is on Instagram now!Follow us at @lwcnewswire and tell a friend!
Inside the MADNESS of a Social Justice "CHURCH"! | Louder With Crowderwww.youtube.com