Jessica Yaniv Tried Showing Underage Girls Pornography
July 26, 2019
Sex predator masquerading as a transwoman, Jessica Yaniv, tried showing pornography to underage girls. But who among us doesn't have such interests such as looking at strings coming out of girl's privates? Stunning. Brave. A new report from The Post Millennial shows several screen shots of a conversation between Yaniv and an underage girl, wherein Yaniv tries to expose the girl to child pornography. This is why parental supervision, even on the internet, is still an important thing. It's also why people generally enjoy vigilante justice stories.
On July 22nd, 20-year-old Jessica Rumpel provided The Post Millennial with evidence of explosive allegations of the sexual interference she experienced as a young teen at the hands of Jonathan "Jessica" Yaniv.

In the aftermath of Rumpel's bravery, two new victims have come forward, and, as unbelievable as it might be, their intersecting stories are even more shocking.

Twenty-year-old Ashley Smith of Ontario, whose name is being altered due to trauma and for the protection of her work and family, says she was victimized when, like Rumpel, she was a teen.
Here's the brief setup. According to The Post Millennial, Yaniv passed himself off as a manager of the girl band "Cimorelli" as a way to access young teen fans. When really he was a manager of a Facebook fan page. Remember, this story is about an older man taking advantage of teenage girls. So try to view this story through the eyes of someone young, inexperienced, and hoping to get closer to a group of people they admire: Cimorelli.
Once Yaniv convinced these young fans, all teen girls, he was close to the band Cimorelli, he pitted one against the other, and became "friends" with them. As always, I encourage you to read the full article at The Post Millennial. They have far more details and damning screen shots in their comprehensive writeup.
Many of the message exchanges between Yaniv and Ashley are freaking weird and might give you a strong case of the heebie jeebies. But the one where Yaniv tries to show Ashley child porn is probably the most substantially incriminating.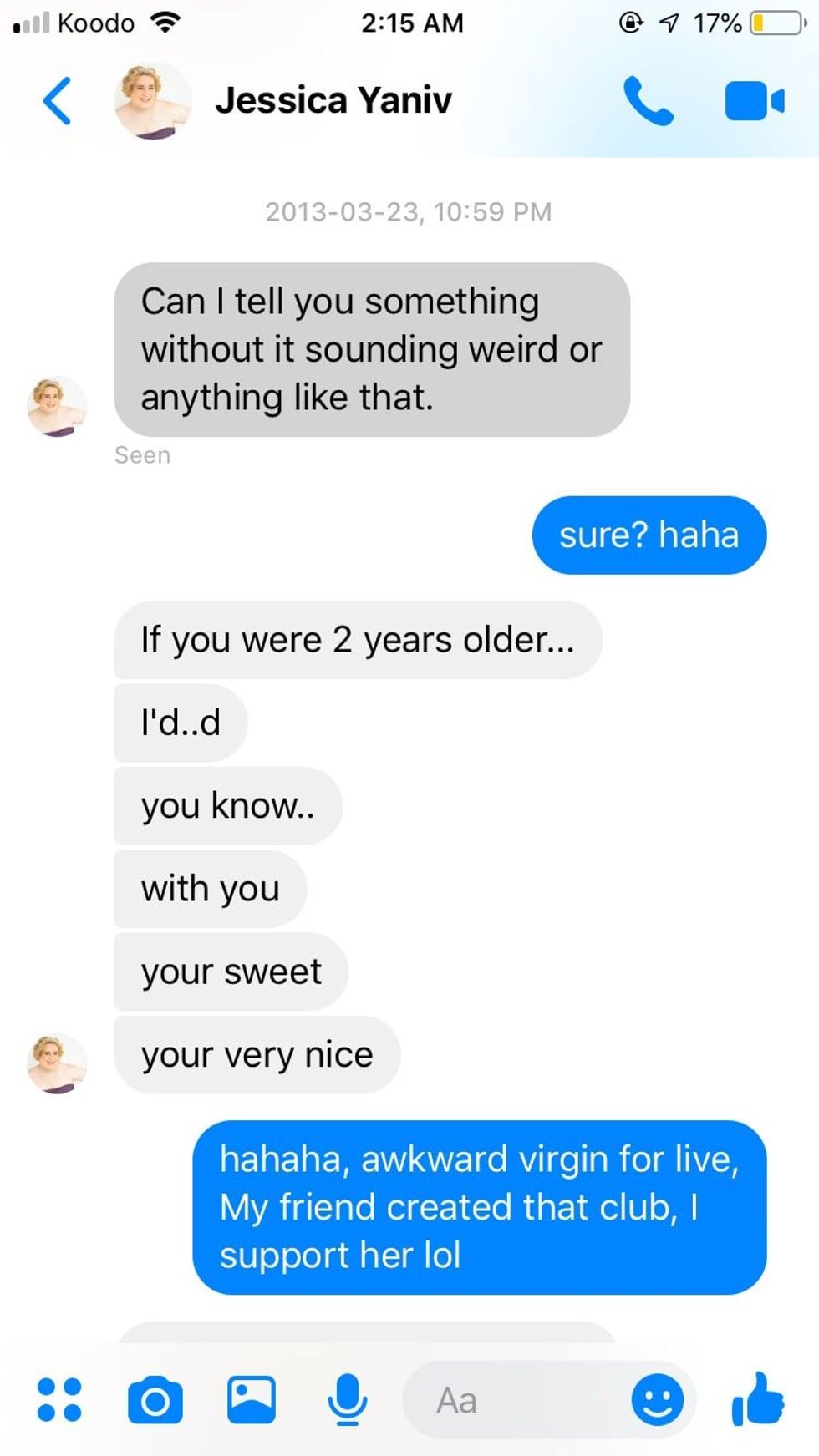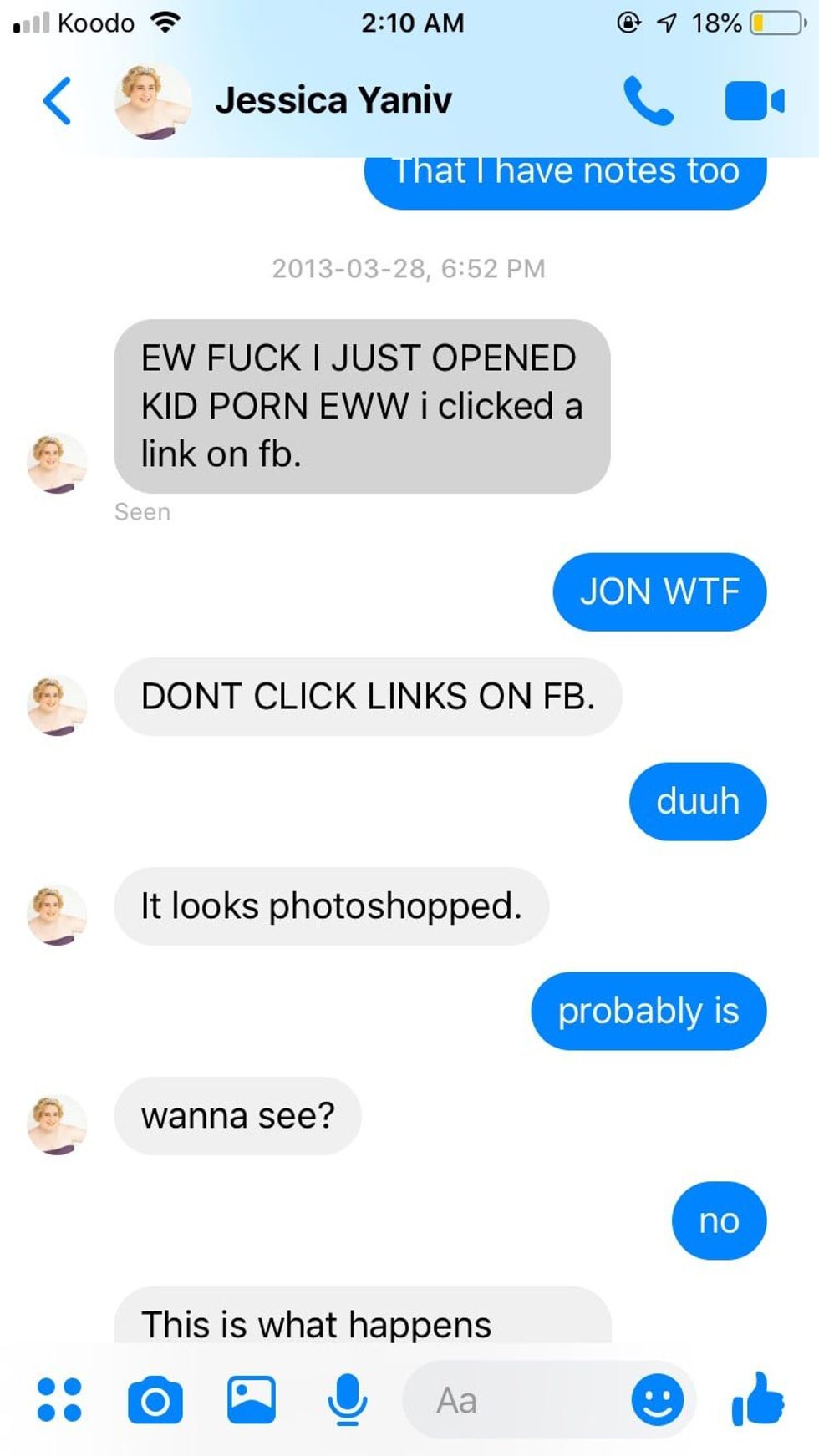 Sneaky. Perverted. Disgusting.
This is not a good person. This is a sick, evil person who should be arrested and put into a cell with someone much bigger and stronger than he is. I'm not walking that back.
As of yet, no girl has come forward saying Yaniv molested them. But the signs are there.
Our biggest fear with the pushing of the transgender agenda was exactly this: a creep posing as a transperson to gain access to our sons and daughters. We knew this was going to happen eventually. We knew rights of women would be violated. We knew children would be put at risk, with the state standing back and allowing it to happen. The trans community has started calling out the predatory behavior of Yaniv. We all need to do the same and make sure this creep never gets close to children.
May Jessica Yaniv get exactly what he deserves. Related: Dear Jessica Yaniv: You're an Evil Sex Predator…
NOT SUBSCRIBED TO THE PODCAST? FIX THAT! IT'S COMPLETELY FREE ON BOTH ITUNES HERE AND SOUNDCLOUD HERE.