Each day we overwhelm your brains with the content you've come to love from the Louder with Crowder Dot Com website.
But Facebook is...you know, Facebook. Their algorithm hides our ranting and raving as best it can. The best way to stick it to Zuckerface?
Sign up for the LWC News Blast! Get your favorite right-wing commentary delivered directly to your inbox!
Politics
Jersey City Official Joan Terrell Posts Angry Anti-Semitic Rant in Reaction to Shooting
December 17, 2019
This is not a good look. Joan Terrell serves on the Jersey City Board of Education, meaning she's an elected official, elected by people of Jersey City. As you know, there was a shooting committed Jersey City, and one of the shooters had ties to the Black Hebrew Israelites, a black supremacy group. Okay? Okay. So here comes Joan, with shit-posting fingers aflutter. She ranted and raved in ways I'd consider a little nutsy in reaction to a column posted by InsiderNJ, called "Faith and hope in the face of Hate." Joan Terrell took off her city official hat and posted the message "as a private citizen" as if that somehow erased or excused her crazy.
From InsiderNJ:
Trustee Joan Terrell, speaking as a private citizen, not as a board member, left an angry comment on Facebook after Lincoln High School Principal Chris Gadsden posted the story.

The column published on InsiderNJ called "Faith and hope in face of Hate" covered a recent gathering of religious and civic leaders on how to address some of the growing tension between the African American and Jewish community, as well as the encroachment of new development making its way into the traditionally poorer neighborhoods from the wealthier waterfront area.
Joan doesn't seem all that interested in joining hands to make a love train. She seems pretty intent on blaming the jooooooooos. Check out her post.
Joan Terrell is an elected member of the Jersey City Board of Education, she says that the murders of the Jews in J… https://t.co/qrfoI0XNpZ

— Reagan Battalion (@Reagan Battalion) 1576591951.0
Getting over the terrible spacing issues (guys, seriously, we single space between sentences now since we no longer use monospaced fonts and typewriters, you can argue with me but you'll only sound and look stupid), that is one terribly long-winded rant of a pretty anti-Semitic variety.
Here's my "favorite" bit:
"However we learned 6 rabbis were accused of selling body parts. Where is the truth in these reports? If we are going to tell a narrative it should begin with TRUTH not more cover-up of the truth. Dialogue is important but the truth is critical. The Fulton Avenue Park/Bethune Center Parking lot story was not about faith and hope. It was about taking from one community and giving to another community. There was no concern of faith and hope. This is just a small portion of the pains of the Black community now being ignored in this rush to faith and hope."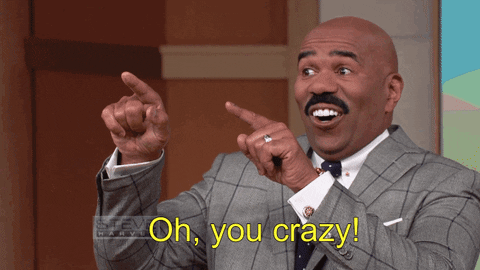 Confession: I have no idea what she's talking about. But I feel as if Joanie here has a pair of fuzzy slippers, the left reading "faith" the other reading "hope." Whether or not she wears these slippers when she's kicking cardboard cutouts of Ben Shapiro, I don't know. My guess would be yes, she wears those slippers.
Ten bucks to the person who can ship the Daily Wire Cancer Tumbler to Joanie's house. But make sure you send it as a "private citizen" not in any official capacity. Extra respect points if you can somehow replace cancer with shekels since we're going all-in on the stereotypes.
Now far be it from me to say this post excused the shooting against the jooooooos, but... kind of seems like it does just a teeny, tiny, itty-bitty bit. Slightly. Just a smidgen. A tad. This long-winded rant was also in reaction to a column calling for unity. To which Joan said screw you short people with the yarmulkes. Listen, I'm just adding a little stereotypical flair for the funnies. Joan is the one who's not that teary-eyed over some jews getting all kinds of shot up, tossing in "faith and hope" like croutons in a salad of insane.
People of Jersey City, rampant anti-Semitism from Joan aside, do you really want a crazy lunatic like this anywhere near EDUCATION?
NOT SUBSCRIBED TO THE PODCAST? FIX THAT! IT'S COMPLETELY FREE ON BOTH ITUNES HERE AND SOUNDCLOUD HERE.