Each day we overwhelm your brains with the content you've come to love from the Louder with Crowder Dot Com website.
But Facebook is...you know, Facebook. Their algorithm hides our ranting and raving as best it can. The best way to stick it to Zuckerface?
Sign up for the LWC News Blast! Get your favorite right-wing commentary delivered directly to your inbox!
Ice Cube uncensored with Tucker Carlson: Says he's banned from 'The View,' compares trans people to pigeons
July 27, 2023
Tucker Carlson sat down with Ice Cube in his studio. He didn't lay down anything on wax. I would have liked to have heard the "No Vaseline (Rupert Murdoch's Ex-Girlfriend Remix)." But the two had a great conversation. Remember when Ice Cube said he was going to be burning a few bridges?
Expect a lot of content created about Ice Cube being a right-wing extremist. He's not, as you know. But we've seen how this goes.
One show that Cube said he is no longer welcome on is "The View."
A few [of the hosts] didn't like where I was coming from. That's what I was told by the producers. I don't know if the producers were copping out to use the hoists as an excuse not to have me on and explain myself. I don't follow their brand of politics, I guess."
This isn't surprising. A lot of the hosts, especially white woman Joy Behar, have severe issues with black men who are independent thinkers.
Where I think the interview is going to cause Leftists to go into conniptions is Cube's "comments" on trans people. I put the word "comments" in finger quotes because he was making a broad argument about how people are allowed to say they are "born this way" if they were born one way. Yet if you were "born this way" as a man with male instincts, you're toxic. His example though...
Not everyone needs to affirm you. If I wake up and say "I feel like a pigeon and I want everybody to treat me like a pigeon," so,e people may say "Whatever, we'll treat you like a pigeon." But some people may choose to be like "Dude...no. That's your world. We're not a part of it."
Tucker's reaction is all of us.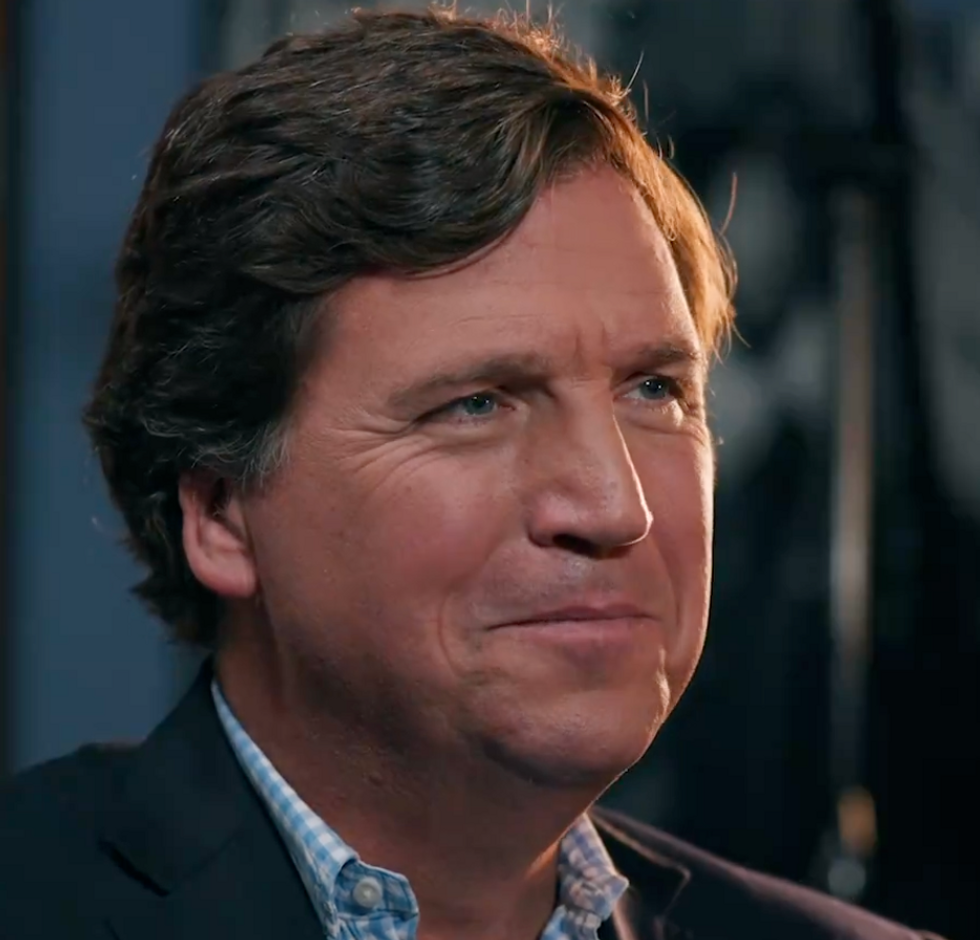 They tackled issues of race and Cube's views on the police too, where he said some things Carlson and maybe a lot of you reading this may not agree with. But it was a respectful conversation between two people about important issues. We need a lot more of this.
><><><><><><
Brodigan is Grand Poobah of this here website and when he isn't writing words about things enjoys day drinking, pro-wrestling, and country music. You can find him on the Twitter too.
Facebook doesn't want you reading this post or any others lately. Their algorithm hides our stories and shenanigans as best it can. The best way to stick it to Zuckerface? Sign up for our DAILY EMAIL BLASTS! They can't stop us from delivering our content straight to your inbox. Yet.