Each day we overwhelm your brains with the content you've come to love from the Louder with Crowder Dot Com website.
But Facebook is...you know, Facebook. Their algorithm hides our ranting and raving as best it can. The best way to stick it to Zuckerface?
Sign up for the LWC News Blast! Get your favorite right-wing commentary delivered directly to your inbox!
Tim Scott to appear on "The View" after Joy Behar called him a bad black guy, but she won't be there
June 02, 2023
Joy Behar, like many white liberals before her, lashed out at presidential candidate Senator Tim Scott for not being a good black man. After all, in the eyes of Joy, you are only a good black if you agree with her white liberal opinions on everything. Scott is set to confront Behar over her racist rhetoric and will be a guest on "The View" -- the most trusted name in news for low information nincompoops -- but there is one problem. The show booked him on a day they knew the shrillest of the shrill harpies would not be there.
Here's what Behar had to say about Tim Scott and other black conservatives who dare not agree with her:
He's like Clarence Thomas. Ablack Republican who believes in pulling yourself by your bootstraps rather than, to me, understanding the systemic racism that African-Americans face in this country, and other minorities. He doesn't get it; neither does Clarence, and that's why they're Republicans.
I'm sure Tim Scott, who grew up a black man with a single-black mother in the south, would have been enlightened to have Joy Behar, and old white broad, whitesplain raaaaaaacism to him. Maybe some other time, reports The Wrap. Behar will not be present for the interview Monday, as it is her day off.
Behar's comments about Scott are not the only time she has lashed out about Black Americans. They are only her most recent.
In 2020, when black congressional candidate Kimberly Klacik called out Behar for performing in blackface, Behar told the black congressional candidate everyone loved her in blackface.
In 2022, she seemed to not think black people understood how to obtain a legal firearm in America. She went on to say that once blacks were able to understand the process, we'd all be in trouble.
It isn't even the first time she'd lashed out at Tim Scott. She is a real crab in a barrel when it comes to him, based on these 2021 comments.
He does not seem to understand — and a lot of them don't seem to understand — the difference between a racist country and systemic racism. Maybe it's not a racist country, maybe Americans — the majority — are not racist. But we live in a country with systemic racism. And the fact that Tim Scott cannot acknowledge this is appalling.
Again, this is Tim Scott: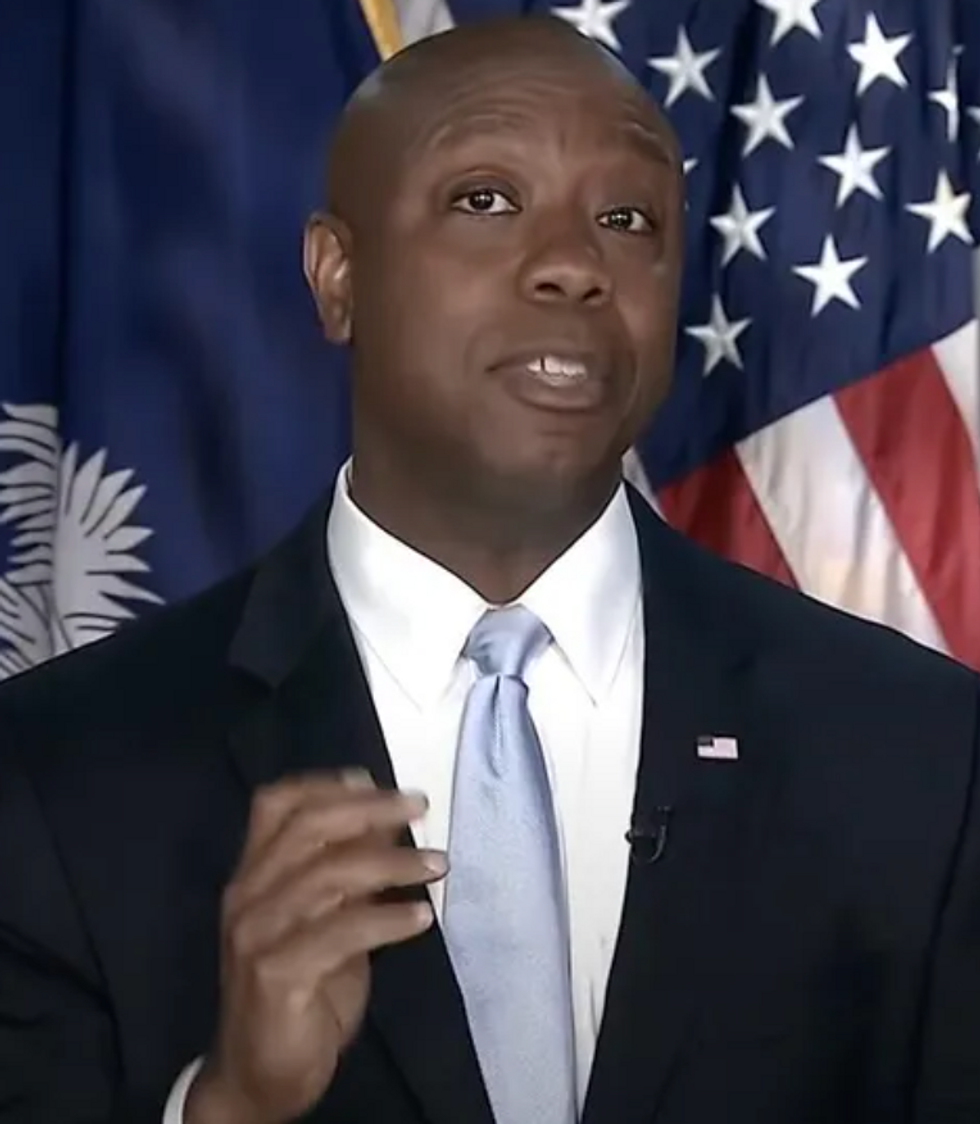 And this is Joy Behar.
Tim Scott is still scheduled to appear on Monday, where he will no doubt get asked about Trump and how to pronounce "DeSantis." It would have been nice to see if Joy had the lady balls to challenge the senator's blackness to his face. My gut is that if she didn't already have off, she would have called in sick.
><><><><><><
Brodigan is Grand Poobah of this here website and when he isn't writing words about things enjoys day drinking, pro-wrestling, and country music. You can find him on the Twitter too.
Facebook doesn't want you reading this post or any others lately. Their algorithm hides our stories and shenanigans as best it can. The best way to stick it to Zuckerface? Sign up for our DAILY EMAIL BLASTS! They can't stop us from delivering our content straight to your inbox. Yet.