Hipster Angry at Magazine For Using His Image in Article About Hipsters. But it Wasn't Him.
March 08, 2019
This story is almost too good to be real. Yet, thank the gods, it is. A bitter, angry hipster threatened to sue a magazine for using his image in an article about all hipsters looking the same. But he wasn't the hipster in the picture. Here's what happened, other than a man was born, lost all hope, and became a professional whiner. MIT Technology Review wrote an article about how people who want to make a countercultural statement (hipsters) all end up making the statement the exact same way. Thereby making themselves their own kind of conformists. Here's the opening of that article.
Y

ou've probably seen this effect—perhaps you are a victim of it. You feel alienated from mainstream culture and want to make a statement that you are not part of it. You think about wearing different clothes, experimenting with a new hairstyle, or even trying unconventional makeup and grooming products.

And yet when you finally reveal your new look to the world, it turns out you are not alone—millions of others have made exactly the same choices. Indeed, you all look more or less identical, the exact opposite of the countercultural statement you wanted to achieve.
I remember the goth kids doing the same in high school. To protest conformity, they all conformed together to wear black clothes, powdered makeup, black eyeliner, black lipliner, walking about with an aura of pompous pathetic-ness. The goth uniform: for people to conform. Only in black.
Hipsters do the same thing, just with beards, single origin coffee, and few dates with girls.
Anyway, MIT Technology Review used a stock image of a hipster as their hero image of the article. Screen capture is below: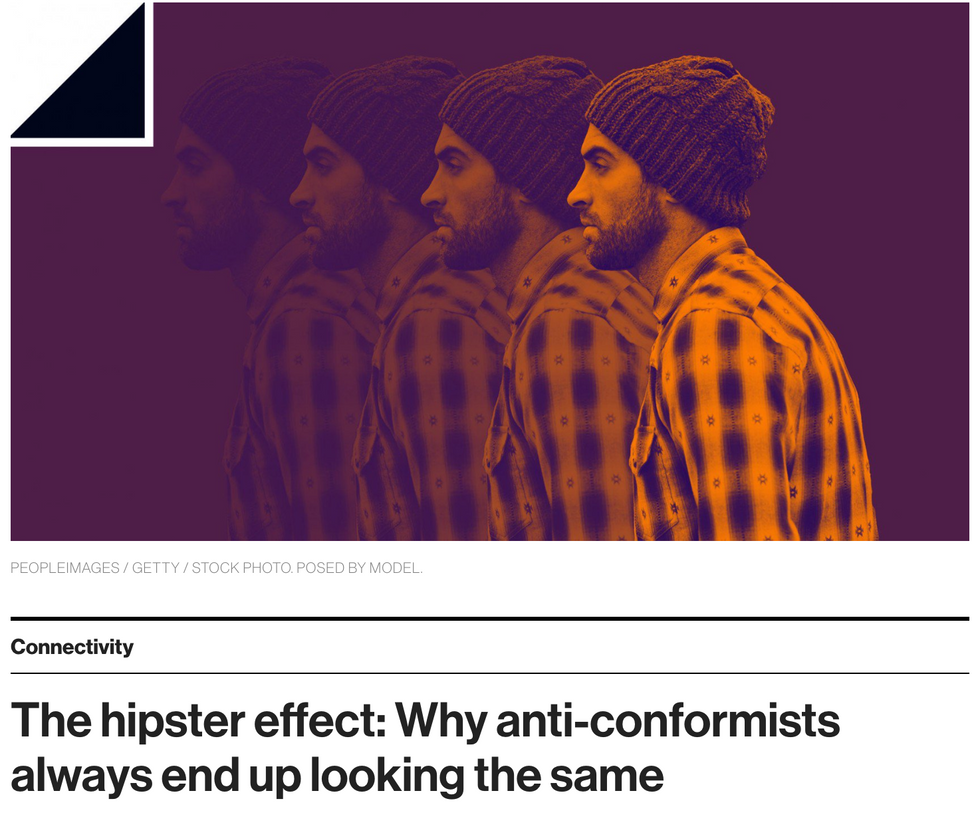 MIT Technology Review article on hipsters all looking the same.
Which caused an actual hipster to get all hot and bothered over the image, because he thought it was a picture of him. A hipster.
The inclusion of version of a Getty Images photo of a bearded, flannel-wearing man, altered with a blue and orange hue, prompted one reader to write to the magazine: "Your lack of basic journalistic ethics in both the manner in which you 'reported' this uncredited nonsense, and the slanderous, unnecessary use of my picture without permission demands a response, and I am, of course, pursuing legal action."
I'm assuming the "uncredited nonsense" is the notion all hipsters look like each other. Like birds of a feather, bitching together. A school of mackerel swept up and netted as a horde of shimmering meat pucks, to be packed and canned and sold as one. A gaggle of squawking geese, ruffling their feathers and dumping green little squish pellets in every park you've ever enjoyed.
Anyhoo, the editor of the publication talked to some people and eventually reached out to Getty images, to ensure he wasn't being a tool for using an image of a person who signed over to Getty the use of his image but who was now upset about it due to context. Here's what the editor learned:
They [Getty] have a team that deals with legal complaints and they went into their archive and checked the details and they came back to us and they said, "Actually the model in this photo does not have the same name as the person who wrote to you."
Which prompted MIT Technology Review to respond to the hipster:
They wrote to him and ... said, "We don't think this is you." And he replied, "Oh, I guess you're right, it's not."
MIT Technology Review was offered zero apologies for the rigamarole the feckless hipster put them through. Which is par for the course for hipsters.
What have we learned? MIT Technology Review was right, the hipster was wrong. As hipsters tend to be as a group. The hipster was wrong all along, didn't apologize for being a douchecigar, and will continue to go forth and be a douchecigar. Spreading his douchey ways on all those non-consenting people who'd just rather not deal with douchey hipsters and their collective douchey ways. Which is rather the way of people who form collectives.
For more on people being asshats as a collective, read:
NOT SUBSCRIBED TO THE PODCAST? FIX THAT! IT'S COMPLETELY FREE ON BOTH ITUNES HERE AND SOUNDCLOUD HERE.