Each day we overwhelm your brains with the content you've come to love from the Louder with Crowder Dot Com website.
But Facebook is...you know, Facebook. Their algorithm hides our ranting and raving as best it can. The best way to stick it to Zuckerface?
Sign up for the LWC News Blast! Get your favorite right-wing commentary delivered directly to your inbox!
Second Amendment
Watch: Gun Rally Attendant Nails It: 'Gun Rights are Civil Rights'
January 20, 2020
Today's gun rights spirit animal is Mark from Northern Virginia. He was interviewed at today's Virginia gun rally in Richmond, where he explained the importance of the Second Amendment and how gun rights are actually civil rights. With a few little digs at Ralph Northam von Blackface.
Interview with one of today's rally attendees. https://t.co/l21jySGOAs

— Stephen Gutowski (@Stephen Gutowski) 1579534551
Mark gets it. The Second Amendment is absolutely a constitutional right, yes, but it is also a civil right. Rather hard to oppress people who are armed and dangerous, isn't it? I'm not sure if the experiment has ever been tried, but I'd guess fire hosing a crowd of non-whites would only work until one of the soaking non-whites stood up, pulled out a weapon, and unloaded his mag.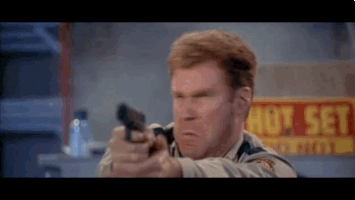 I used the gif above because at least here, Will Farrell is rocking the ginger curls. If ever there was a minority suffering under oppression, it's gingers. Not for bad reasons, either.
Further, Mark is also right to point out the audacity of Governor Ralph Northam, who by all metrics is probably a racist (as in he is one), to make an executive order from lawfully assembling during a long-standing rally. On MLK day.
Lastly, Northam has clearly failed in painting gun rights advocates as a bunch of racist white supremacists. Mark here is what we'd call "dark white," which is a color you can achieve if you take the color white and darken it. A good few shades. Despite Mark being "dark white" he freely shares he feels no danger being surrounded by people who are just pink white. That's because gun rights are not an issue of white supremacists.
Gun rights are for people who value their freedom. Last I checked, people who value freedom come in all shapes, sizes and colors. Not to be confused with those governors who hide themselves under layers of black face paint or a KKK hood.
The Louder with Crowder Dot Com Website is on Instagram now!Follow us at @lwcnewswire and tell a friend!