High School Implementing Racist Grading System, Claim It's All In the Name of 'Equity'
May 31, 2022
Public schools do not exist to educate students. Even they say this. They exist to make kids into drag queens,confuse them about their gender, and gather up children in a centralized location for pedophiles to prey on them. And for further proof that the schools don't exist to educate students, take a look at these extremely racist changes to the grading system taking place at Oak Park and River Forest (OPRF) High Schools in Chicago.
According to West Cooks News, administrators discussed the changes at a May 26 meeting of the school board. The assistant superintendent presented the changes.
"Traditional grading practices perpetuate inequities and intensify the opportunity gap," reads a slide in the presentation.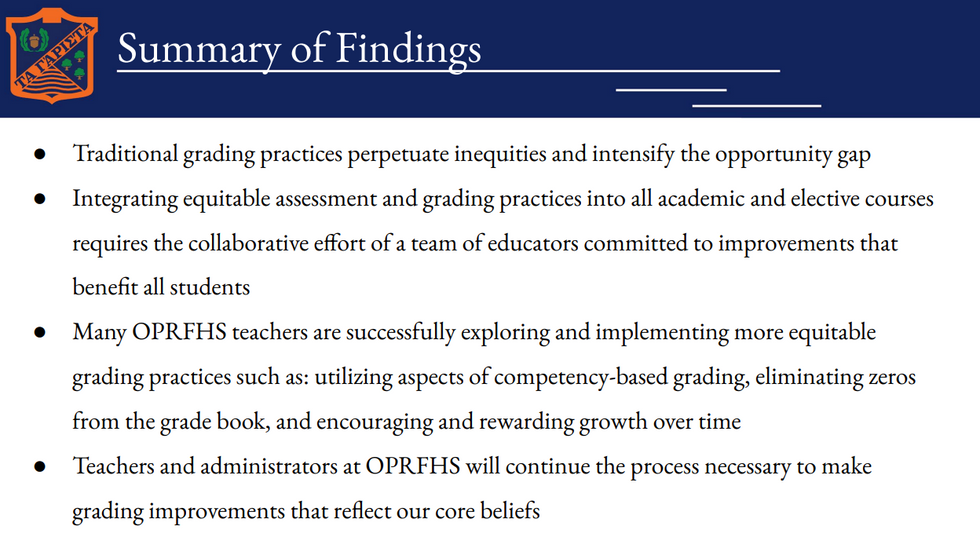 How do the grading practices do this? Well, apparently, marking students absent, docking their grades for misbehavior, or even giving zeroes for assignments not turned in are all examples of racist traditional grading... One must then ask why it is such general practices often affect minority students--but the notion that their own behavior may be to blame is obviously not something leftist school administrators want to contend with. It's easier to just change the system to pass these kids along.
The failure rates among these students are quite astonishing. Per West Cook News, "The OPRF failure rate was 77 percent for black students, 49 percent for Hispanics, 27 percent for Asians and 25 percent for whites."
So, instead of acknowledging their own complete and epic failure to educate students, the schools are deciding to change the grading system to an "equity-based" one to allow more students who shouldn't be passing to pass... It sounds like a perfect plan (except when it comes to these kids leaving high school and going out into the world).
The associate director of the Education Advisory Board Margaret Sullivan says, "Teachers may unintentionally let non-academic factors—like student behavior or whether a student showed up to virtual class—interfere with their final evaluation of students."
Yes, because a disruptive student always knows all the material, and failure to turn in one's work is illustrative of a student who understands everything they were taught.
This sounds like another effort to minimize the failure of the schools while sticking to the inane tenets of the diversity, inclusion, and equity wing of the Critical Race Theory movement. None of it seeks to actually help students, but that isn't even on the list of concerns for the left.
The Louder with Crowder Dot Com Website is on Instagram now!Follow us at @lwcnewswire and tell a friend!
DEFUND Public Schools! PATRIOTS Obliterate Their School Board | Louder With Crowderwww.youtube.com