Each day we overwhelm your brains with the content you've come to love from the Louder with Crowder Dot Com website.
But Facebook is...you know, Facebook. Their algorithm hides our ranting and raving as best it can. The best way to stick it to Zuckerface?
Sign up for the LWC News Blast! Get your favorite right-wing commentary delivered directly to your inbox!
Watch: California special needs student called "bigot" by teachers for not wanting to learn how lesbians have sex
June 22, 2023
A special needs student was (allegedly) called a transphobic bigot by teachers during a health and relationships class at Glendale High School. Her mother (allegedly) checked a box on a form that would seclude her daughter from being taught anything LGBTQ+ or sexual in nature. The school (allegedly) didn't care. Also, the student (allegedly) did not use preferred pronouns.
(Excessive use of "allegedly" aside to appease "independent" "fact" checkers, I know that you know that I know that you know)
Now that you have the backstory, here is the student's mother wanting to know "what the deuce" from the city council.
My daughter was taught such acts as scissoring. When my daughter expressed that she should not be in these classes, she was called a bigot by her teacher, she was called intolerant, and she was called homophobic. These are all terms she didn't know, they are not part of our vocabulary at home. She simply expressed that due to her Christian beliefs it goes against her morals. At that point a staff member told her to look at her skin color.
Ah, yes, Because the girl has brown skin and is therefore marginalized, and because everyone on the LGBTQAIIP+EIEIO spectrum is marginalized, the student should embrace learning -- IN SCHOOL -- how lesbians get amorous by rubbing their vaginas together. Apologize for not going right to the link on Urban Dictionary, but at least I didn't use this.gif of Miss Garrison from South Park.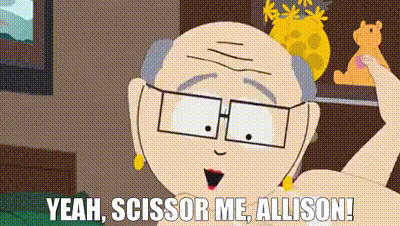 (I couldn't help myself, but this is what's -- allegedly -- being taught in high school)
To be fair, Glendale High Communications Director Kristine Nam issued a statement to Fox News claiming it was "a general lesson from the health textbook about making healthy decisions in your relationships," and that the teacher asked the girl "to refrain from making inappropriate remarks." The school claimed no wrongdoing by the teachers but is still investigating.
Maybe the school is right and the student has her facts confused. But it sounds like par for the course when schools are teaching the pros and cons of "spit vs lube" when gay men do butt stuff. Not to mention, all the glorified Penthouse Forum Letters that find their way on recommended reading lists. Material that had a student looked up on their school-issued laptops THEY WOULD BE BLOCKED FROM SEEING on the internet.
Where the oldhead in me gets confused in all of this is the extent WE were "taught" how to "have" heterosexual sex was a science lesson about how babies are made and a discussion about not making babies before you were married. We didn't have graphic lessons about doing it doggy-style or reverse cowgirl. Nor was sixty-nining pitched as a method of safe sex.
Yet, in the name of "inclusion" and stuff like "equity," government-run schools have decided graphic sex is the only way to "teach" students to be tolerant of each other. It's ALMOST as if there is an alterior motive going on.
><><><><><><
Brodigan is Grand Poobah of this here website and when he isn't writing words about things enjoys day drinking, pro-wrestling, and country music. You can find him on the Twitter too.
Facebook doesn't want you reading this post or any others lately. Their algorithm hides our stories and shenanigans as best it can. The best way to stick it to Zuckerface? Sign up for our DAILY EMAIL BLASTS! They can't stop us from delivering our content straight to your inbox. Yet.