Each day we overwhelm your brains with the content you've come to love from the Louder with Crowder Dot Com website.
But Facebook is...you know, Facebook. Their algorithm hides our ranting and raving as best it can. The best way to stick it to Zuckerface?
Sign up for the LWC News Blast! Get your favorite right-wing commentary delivered directly to your inbox!
Articles
Gillette Creates Advertisement Featuring Trans 'Man' Shaving
May 27, 2019
In our latest installment of This Week in Wokeness, I give you this gem of an advertisement. The folks over at Gillette are trying to one-up themselves and score all the lefty brownie points. On this go-round, they're pandering to the LGBTLMNOP crowd by featuring a trans "man" in the midst of "his" first shave.
See for yourself:
https://www.facebook.com/gillette/videos/2353380328320259/
Gillette has released a new advertisement featuring a trans man shaving for the first time as his father looks on with pride. The ad features Samson Bonkeabantu Brown, a young Canadian, who says, "Growing up I was always trying to figure out what kind of man I want to become and I'm still trying to figure out what kind that I want to become."

Brown then receives encouragement and advice from his father. "Now don't be scared. Shaving is about being confident. You are doing fine." Brown concludes the ad saying, "It's not just myself transitioning. It's everyone around me transitioning."
Let me get this straight. So the key to being a real man means not being a man at all. "Real men have hoo-hahs and avoid "toxicity" at all costs. Nobody likes a man who's lacking in woke points." So sayeth our almighty manufacturer of shaving implements. What a joke.
I guess now I have all the more reason to stick with my trusty double edge. I'm not "woke" enough to pay fifteen bucks for five of Gillette's craptastic razor cartridges. After all, everyone knows facial hair removal is a political act.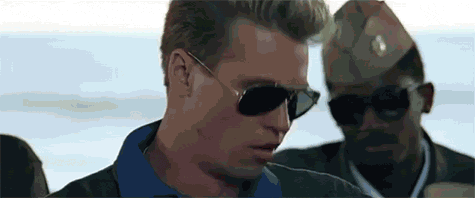 Woke advertising seems to be the wave of the future. Bladed objects with which you scrape hair off your mug are merely an excuse to force leftism upon us unenlightened havers of peens. God help us all.