Each day we overwhelm your brains with the content you've come to love from the Louder with Crowder Dot Com website.
But Facebook is...you know, Facebook. Their algorithm hides our ranting and raving as best it can. The best way to stick it to Zuckerface?
Sign up for the LWC News Blast! Get your favorite right-wing commentary delivered directly to your inbox!
Gavin Newsom threatens Ron DeSantis with kidnapping charges, but then a video of happy illegals going to California drops
June 07, 2023
Another group of illegal asylum migrants was sent to California. California, a state that overwhelming votes for people who say "no human being is illegal," was all about encouraging illegal immigration when it was Texas and Arizona border towns being overwhelmed. Now that these undocumented illegals are being redistributed to blue states, being a drain on resources is a bad thing. Then you have schmucks like Gavin Newsom accusing Ron DeSantis of kidnapping.
Oh yeah, that latest plane of undocumented asylum illegals was sent from Florida. The same state Newsom's in-laws moved to because Cali has become such a sh*thole. You would think by now Newsom would know DeSantis always brings receipts. See also: Book Ban Hoax, Exposing The Lying Media's. These new Californias were NOT kidnapped and there's video proving it.
Wait, kidnapping?
Gavin Newsom accused Ron DeSantis of being a "pathetic man." Then he accused the governor of "kidnapping" by sharing California statue for the crime.
Every person who, being out of this state, abducts or takes by force or fraud any person contrary to the law of the place where that act is committed, and brings, sends, or conveys that person within the limits of this state, and is afterwards found within the limits thereof, is guilty of kidnapping.
He he's super serious too!
Those are some happy looking prisoners!
The Daily Caller got the scoop that, no, these brave illegal seeking asylumers were not kidnapped. They ackshually wanted to go to California!
"Through verbal and written consent, these volunteers indicated they wanted to go to California. A contractor was present and ensured they made it safely to a 3rd-party NGO. The specific NGO, Catholic Charities, is used and funded by the federal government," the Florida DOEM told the DCNF.
And there's video of these brave migrants thanking Florida for being so nice to them and treating them super well. Also, and I quote, "We made it to California! Thank God! Very thankful to God!"
Call me a DeSimp, but these do not look like the faces of people who have been kidnapped: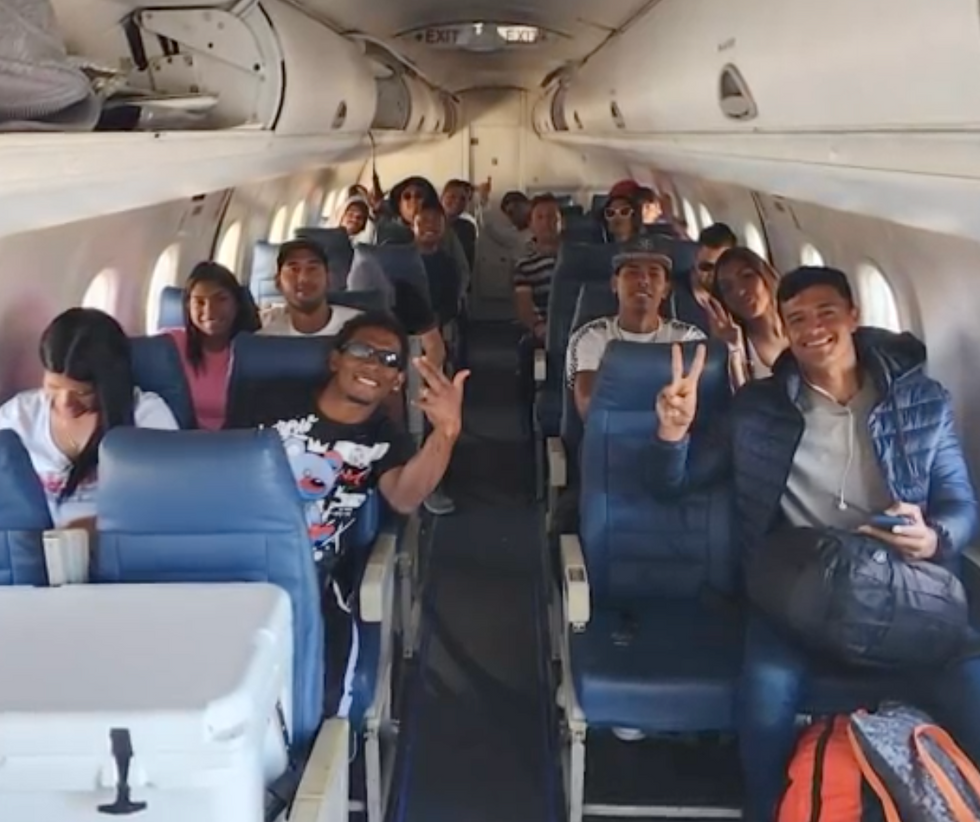 Leftists like Gavin Newsom have been lecturing Americans for DECADES how no migrant is illegal, and you're a xenophobe if you support any border reforms. You would think Newsom would be happy to have these new workers to pick their crops, another reason why leftists love illegals. Who else will Newsom get to pick the grapes for his winery? The homeless drug addicts on the streets of San Francisco? Thank make more money being homeless drug addicts.
><><><><><><
Brodigan is Grand Poobah of this here website and when he isn't writing words about things enjoys day drinking, pro-wrestling, and country music. You can find him on the Twitter too.
Facebook doesn't want you reading this post or any others lately. Their algorithm hides our stories and shenanigans as best it can. The best way to stick it to Zuckerface? Sign up for our DAILY EMAIL BLASTS! They can't stop us from delivering our content straight to your inbox. Yet.