Each day we overwhelm your brains with the content you've come to love from the Louder with Crowder Dot Com website.
But Facebook is...you know, Facebook. Their algorithm hides our ranting and raving as best it can. The best way to stick it to Zuckerface?
Sign up for the LWC News Blast! Get your favorite right-wing commentary delivered directly to your inbox!
Twitter explodes when Gavin Newsom claims to visit a bookstore that sells "banned" books (think about it)
July 03, 2023
While Joe Biden campaigns for president on "Bidenomics," Gavin Newsom is "campaigning" for "president" on book bans. Because while Democrats are begging for a rematch with Trump, Newsom -- who critics say is counting the days until Biden says the words "due to health reasons" -- has decided Ron DeSantis is the most likely nominee. And when leftists claim book "bans" are castrating our children and a literal paper genocide, DeSantis is the boogeyman.
So here is Newsom shopping at a "banned" bookstore in Idaho. Yes. A book store where you can buy books that the Left says you are banned from buying.
Using this logic, you too can shop at a banned bookstore today. It's called Amazon.com.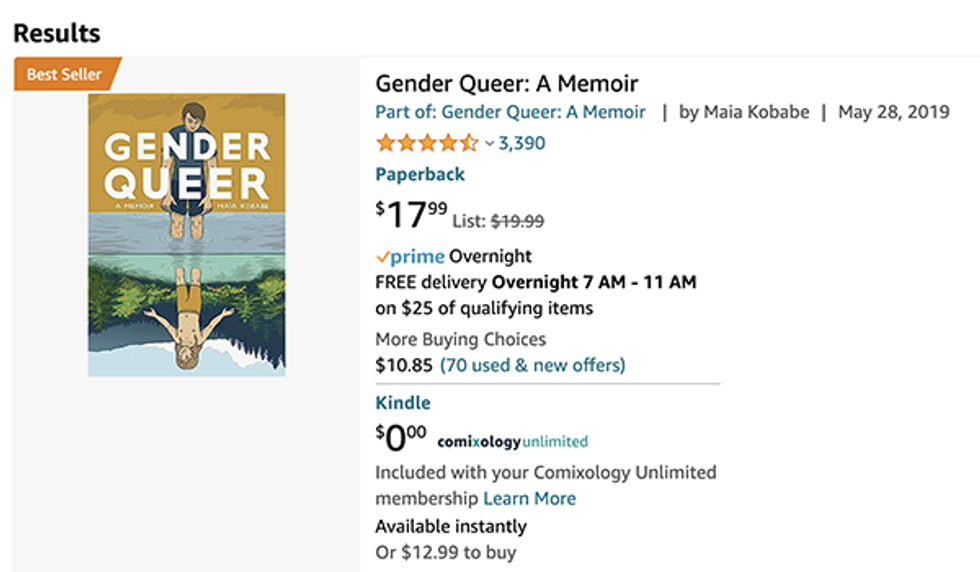 Using the "independent" "fact" checker definition where a book ban also means when a book ISN'T banned but you don't have immediate access to it, Amazon only providing OVERNIGHT delivery and not SAME-DAY delivery means they are banning this book from you. I don't make the rules.
Did Republican's seize on Gavin Newsom visiting a banned booked store?
You're goddamned right we did.
"Wow look at all these banned books I can buy in broad daylight in a store with no interference whatsoever" https://t.co/EUw3MtsZyK
— Oilfield Rando (@Oilfield_Rando) July 3, 2023
The people behind these "bans" of books you can walk into a store and buy are about as effective as the "vote suppressors" whose voter suppression resulted in record high turnout.

Or maybe performative empty suits like Gavin Newsom are just full of crap. https://t.co/z9caNjafLa
— Matt Whitlock (@mattdizwhitlock) July 3, 2023
Funny how when the Left cries that the Right is banning books, they never give specific titles.
Periodic reminder that when they accuse us of "banning books" they're referring to pornographic books which are offered to kids in schools across the country.

Why does Gavin Newsom want kids to read porn in school? https://t.co/gbk7xsUf4X pic.twitter.com/GsXA3RHxjF
— Libs of TikTok (@libsoftiktok) July 3, 2023
Dean Cain, former California resident and the greatest Superman this generation has ever known, has a new name for Newsom.
Gaslighter-in-Chief https://t.co/nzIkckPM09
— Dean Cain (@RealDeanCain) July 2, 2023
Oh, and you may notice corporate media claiming Gavin Newsom is campaigning for Joe Biden... in Idaho. More like IdahLOL.
What's funny about this, is gavvy was on his way to or from a vacation at some billionaire resort . But he had to stop and send a commie message to his mindless constituents. https://t.co/15L9ckDkRK
— Josh__Seattle (@Josh__Seattle) July 3, 2023
Newsom even has a catchphrase: "Stick it to the ban." See, he took the colloquialism "stick it to the man," only he replaced "man" with "ban." Get it?
I would love to see the internal polling that shows Democrats this is a winning issue for them when every other culture war poll is going in the opposite direction. Unless there is a silent majority of voters who WANT their kids exposed to porn in schools.
I kinda doubt that.
><><><><><><
Brodigan is Grand Poobah of this here website and when he isn't writing words about things enjoys day drinking, pro-wrestling, and country music. You can find him on the Twitter too.
Facebook doesn't want you reading this post or any others lately. Their algorithm hides our stories and shenanigans as best it can. The best way to stick it to Zuckerface? Sign up for our DAILY EMAIL BLASTS! They can't stop us from delivering our content straight to your inbox. Yet.