Watch: Elderly dog looking for treats miraculously survives a 23-foot fall into a manhole
March 20, 2023
We could all use some non-politics news this Monday morning. And what better than another dog rescue story? This definitely brightened my day, so I'd like to share it with you all. You're welcome.
Tess, a 14-year-old Labrador Retriever in Portland, was on the hunt for snacks last Friday when she fell down a 23-foot utility hole. The manhole was exposed because city workers were inspecting a storm drain. Tess apparently thought they were there to give her a treat, as most dogs naturally believe of any human being they encounter.
The fire department arrived and sent a firefighter down the hole to rescue Tess since she was miraculously still alive. She was completely uninjured, as a pile of leaves and various debris had cushioned her fall. They pulled her up with a pulley system and she emerged, totally fine. You can see in the video below how she's pulled up and immediately goes to her owners, tail wagging and all. What a chill gal.
The Portland Fire Department detailed the rescue on Facebook, along with pictures of Tess chillin' in the manhole: "Your Portland Firefighters rescued a 14-year-old lab named Tess this morning at SE 9th and Lambert. Environmental services had removed a manhole cover to inspect storm drains, and the unsuspecting pup fell 23' to the bottom. The technical rescue team was dispatched, creating a high point to lower rescuers down to the dog. Tess was safely extricated with no injuries."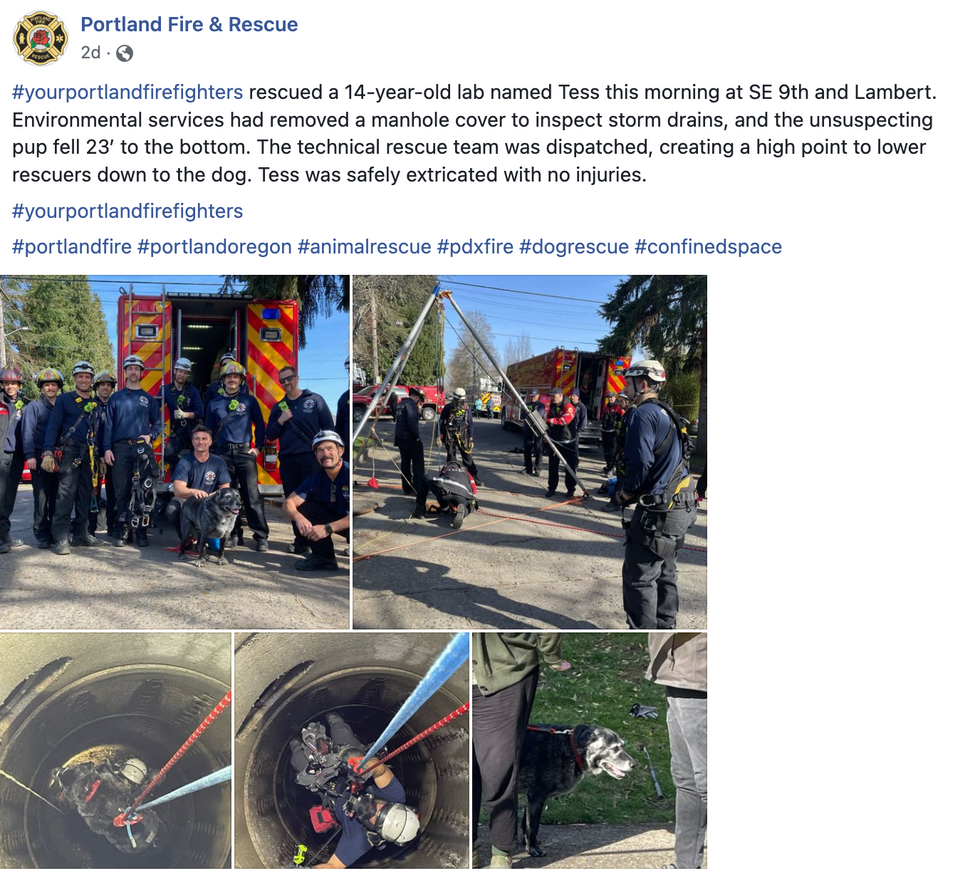 These are the kind of news stories I'm here for. In the midst of possible arrests of former Presidents, rampant homelessness, and racist coffee, it's nice to know that there are still some good things happening out there. Like a good dog surviving a 23-foot death drop. And in Portland, no less.
Editor's Note:
It's official. MugClub. Is. Back.
Everyone here at the team is thrilled to inform you that MugClub relaunches on March 20, 2023. It is bigger, it is better, it is more affordable, it will include MORE content than ever AND it's powered by Rumble!
Did I mention that the annual price has been lowered from $99 to $89?