Each day we overwhelm your brains with the content you've come to love from the Louder with Crowder Dot Com website.
But Facebook is...you know, Facebook. Their algorithm hides our ranting and raving as best it can. The best way to stick it to Zuckerface?
Sign up for the LWC News Blast! Get your favorite right-wing commentary delivered directly to your inbox!
COVID-19
Democrats STILL Overestimate How Many People are Hospitalized for COVID. By a LOT!
September 27, 2021
If I were to say "COVID-19 isn't that bad for most people" that statement would be received differently depending on the state in which you lived. If you reside in a state that votes Republican, you'd probably agree. If you live in a state that votes Democrat, what are you doing get out of that hell hole? Democrats believe COVID is more dangerous especially for the unvaccinated. These numbers from Gallup are largely an indictment against the media and those figure heads media puts on gold-plated platforms. How are we supposed to "follow the science" if what we're being told to follow are narratives?
Democrats still believe more people are being hospitalized for COVID-19 than are actually being hospitalized for COVID-19.
From Gallup:
In December 2020, through the Franklin Templeton-Gallup Economics of Recovery Study, we asked 5,000 U.S. adults: "As far as you know, what percentage of people who have been infected by the coronavirus needed to be hospitalized?" Only 18% provided the correct answer, which at that time was between 1% and 5%, and a higher percentage of Republicans (26%) gave the correct response than did Democrats (just 10%). Likewise, experimental research from Gallup and Franklin Templeton found that providing people information about high vaccine efficacy led to greater acceptance of the vaccine.

For unvaccinated hospitalization risk, 2% of Democrats responded correctly, compared with 16% of Republicans. In fact, 41% of Democrats replied that at least 50% of unvaccinated people have been hospitalized due to COVID-19.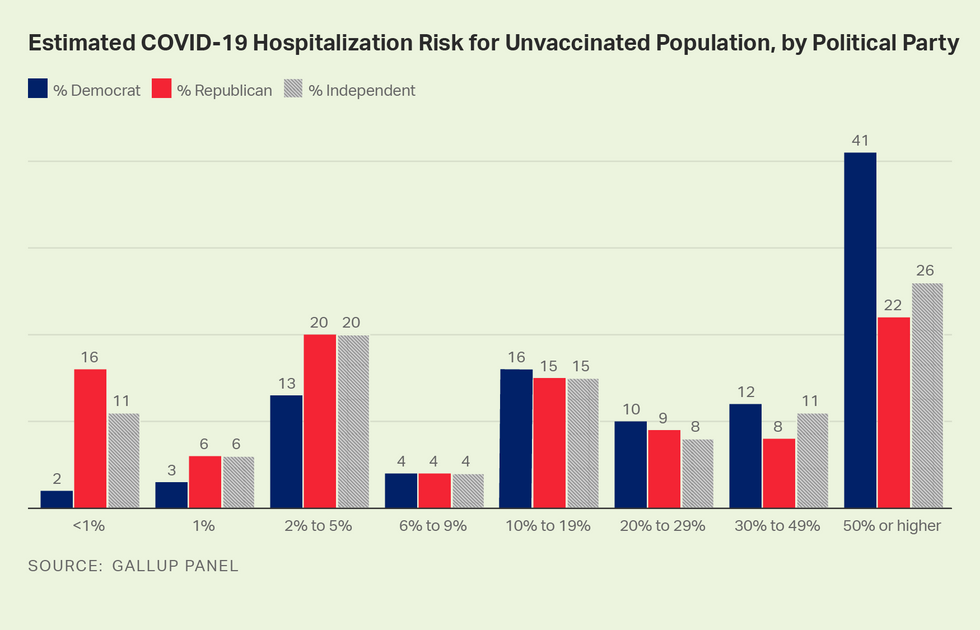 This "logic" follows. The more something is discussed by media, the more people see it as normal. A few years ago I wrote a column that garnered my first ever viral hashtag: #StopGayingAllTheThings. In that column I discussed the public's perception of how many in the public swing gay. If you were to ask average Americans what percentage of the population is gay, back in 2015 they'd say around 10 to 23 percent. When the LGBT population is closer to 2 to 3 percent. But since Hollywood and media pushed the gay and lesbian storylines for as long and as hard as they did (that's what she said) public perception shifted. Which was the entire point.
The same is being done with COVID-19. Media drums it up to be this super scary virus we should all fear. Mask wearing in public, standing a distance from each other, it's all engineered to make people frightened. A frightened people is easier to control. Here we have polling numbers that prove out the theory. I'd wager all those Democrats have CNN playing somewhere in their home, and on purpose.
Now we have "the science" drawn on political lines. Where Democrats think hospitalizations due to COVID are far more likely than reality, and Republicans don't believe in the efficacy of the vaccine.
I'd wager the vaccine wouldn't be so political if, wait for it, politicians hadn't used it to leverage more control politically. Yet Biden, his Democrats and cohorts in media are out demonizing the "unvaccinated" as this dirty class of people who're responsible for everything wrong in this world. Even though the data says anything but.
Vaxxed Up To The WAZOO! One THIRD of 'The View' Get Covid Anyway! | Louder With Crowderyoutu.be