Each day we overwhelm your brains with the content you've come to love from the Louder with Crowder Dot Com website.
But Facebook is...you know, Facebook. Their algorithm hides our ranting and raving as best it can. The best way to stick it to Zuckerface?
Sign up for the LWC News Blast! Get your favorite right-wing commentary delivered directly to your inbox!
Articles
Democrat Senator Beclowns Himself Attacking Trump Over Iran
January 03, 2020
Iranian general and terrorist-sponsoring baddie Qasem Soleimani was shuffled loose his mortal coil after a U.S. led airstrike. His sudden discovery that there aren't 72 virgins in hell was in response to his leading an attack against our U.S. embassy. Trump just wasn't going to sit idly by and let that one go unanswered. Nor did he blame the attacks on a YouTube video. Since we're talking about it. Generally speaking, when discussing Iran, the people in charge of the country seem to be not very nice (see Iranian Group Offers $100,000 to Blow Up Jerusalem Embassy and VIDEO: Iranian MPs Burn American Flag, Chant 'Death to America'). I know the Middle East can be a confusing place, so it's helpful to keep your Trump Derangement Syndrome in check. Otherwise, you play yourself like junior douche from Connecticut, Senator Chris Murphy.
Two days apart. It really is sad what partisanship is doing to people. First @ChrisMurphyCT complains that we are… https://t.co/dHx3BgCAX1

— (((AG))) (@(((AG)))) 1578018385.0
Tweet one: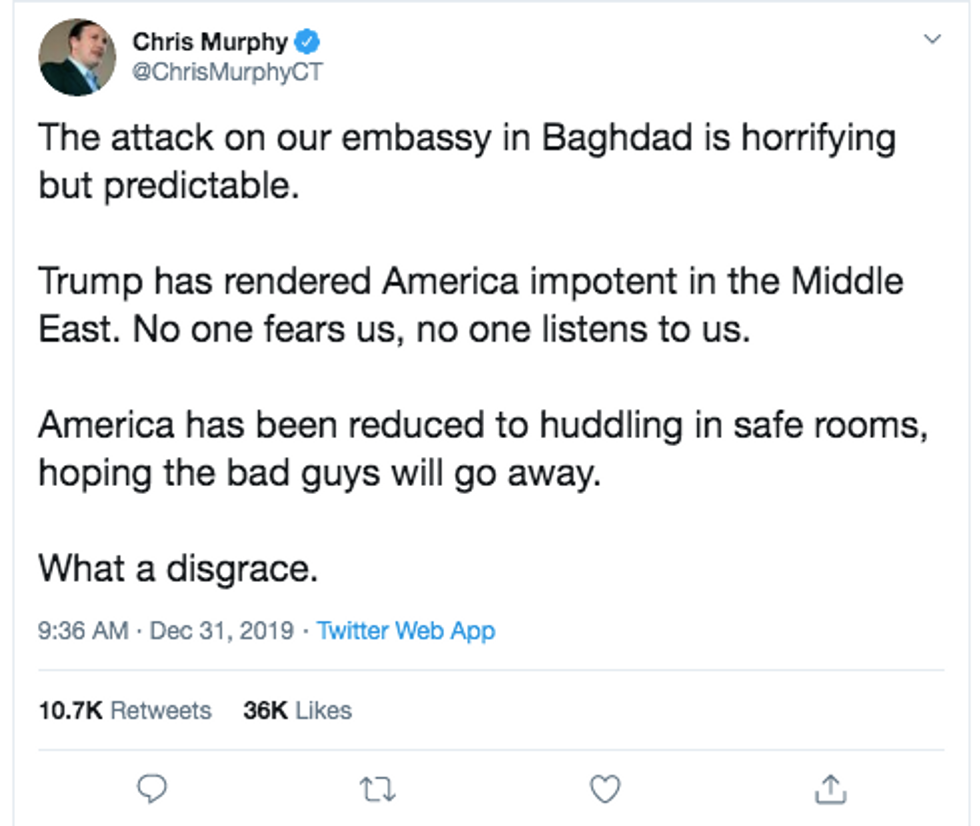 Tweet two: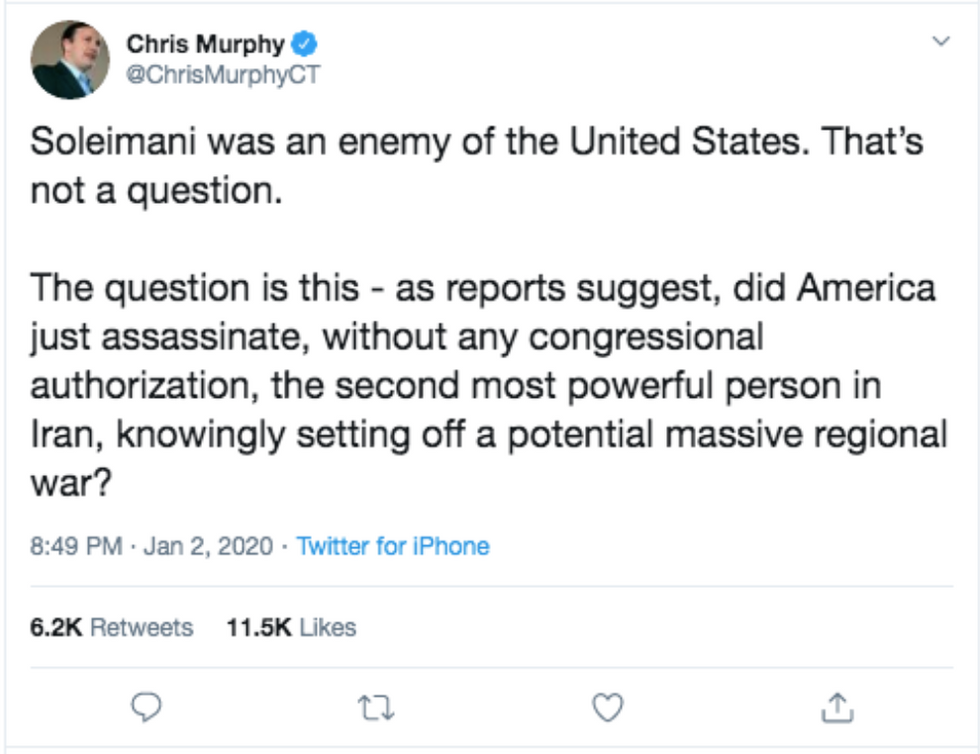 I generally don't discuss foreign policy because it's a complicated issue that I don't have the background to follow. Especially in the Middle East, where there never seems to be good options. Just less bad options. Even those come with consequences. But none of us are United States Senators. They're the ones who should at least have some of the answers and not base their comments on how much they hate Trump. Especially since there's a way to do both and only be half an assclown when doing so.
If you want to crap at Trump, whom I despise, for overseeing the killing of, literally, one of the world's worst pe… https://t.co/pARF0XqByF

— John Schindler (@John Schindler) 1578020454.0
So congratulations, Senator Chris Murphy. You are the first elected official to hashtagDJKhalidyouplayedyourrselfgif of 2020. Take a bow.