CLIMATE CHANGE FAIL: Melting Glacier is Growing Again
March 26, 2019
My one argument I have whenever someone tells me the "climate is changing" and it's somehow human beings fault is to issue a simple challenge: name one thing in the universe which is a constant, and thus never changes. I'll wait. Because the Earth isn't done yet. It's always doing something, and is far more complicated than a simple paint by numbers. The climate changes, and has a way of balancing itself out. For example, a key glacier in Greenland, which the climate alarmists freaked about just a few years ago because it was melting like the Wicked Witch, is now growing again.
WASHINGTON (AP) — A major Greenland glacier that was one of the fastest shrinking ice and snow masses on Earth is growing again, a new NASA study finds.

The Jakobshavn (YA-cob-shawv-en) glacier around 2012 was retreating about 1.8 miles (3 kilometers) and thinning nearly 130 feet (almost 40 meters) annually. But it started growing again at about the same rate in the past two years, according to a study in Monday's Nature Geoscience. Study authors and outside scientists think this is temporary.
"Study authors and outside scientists think this is temporary." You mean like the apparent shrinking starting around 2012 was temporary? Like that? You mean the oceans, the air, the glacier size, maybe that's not supposed to be constant either?
The water in Disko Bay, where Jakobshavn hits the ocean, is about 3.6 degrees cooler (2 degrees Celsius) than a few years ago, study authors said.
This is important, so listen up. The water is cooler today than it was a few years ago. The glacier is growing about as quickly as it was shrinking. The alarmists blamed man-made climate change a few years ago for the shrinking. Do you think they're pausing to reflect on their panic?
No.
While this is "good news" on a temporary basis, this is bad news on the long term because it tells scientists that ocean temperature is a bigger player in glacier retreats and advances than previously thought, said NASA climate scientist Josh Willis, a study co-author. Over the decades the water has been and will be warming from man-made climate change, he said, noting that about 90 percent of the heat trapped by greenhouse gases goes into the oceans.
BUT WHAT ABOUT THE COOLING? IS THAT MAN-MADE CLIMATE CHANGE'S FAULT TOO?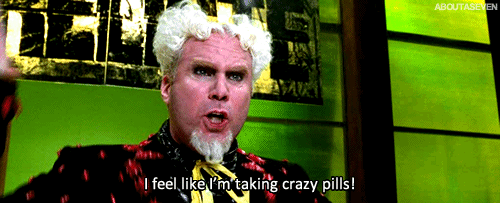 I apologize for the all caps, but this is maddening. So I understand it, whenever something these climate change scientists perceive as bad happens, it's the fault of man-made climate change. And it's bad. Whenever something good happens as perceived by these climate change scientists, like the glacier growing... it's still bad because of man-made climate change. Noticing a pattern? Related: Alarmists Blamed Low Great Lakes Levels on Climate Change. Now Lakes Show Record Highs.
Can you understand why some of us are just a little skeptical about blaming human beings for climate's changes? There's just no winning. There's never good news. It seems like climate alarmists want there to be man-made climate change so they can "do something" to fix it. Where "do something" translates into bigger government and control over people's lives. Change my mind.
NOT SUBSCRIBED TO THE PODCAST? FIX THAT! IT'S COMPLETELY FREE ON BOTH ITUNES HERE AND SOUNDCLOUD HERE.