Watch: World's dumbest 'Celebrity Jeopardy' contestants don't know what Iowa is
January 18, 2023
SNL had a reoccurring sketch mocking what dum-dums celebrities are when they appeared on 'Celebrity Jeopardy.' It's where we got such classics as Norm MacDonald's impersonation of Burt Reynolds, "the penis mightier," and Sean Connery finding new ways to describe having sex with Alex Trebek's mother.
The sketch became reality in this viral clip from the celebrity edition of the show. None of them knew what Iowa was. Yes, Iowa. The state. In America.
In 'Field of Dreams' a question is asked, 'Is this heaven?' - No, it's this midwestern state also known as 'the corn state.'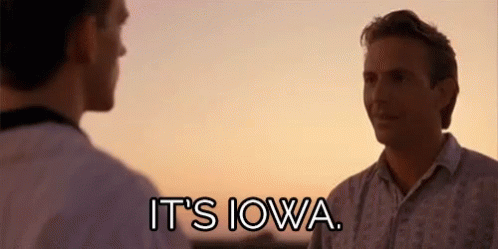 The only celebrity I recognize is alleged comedian and former friend of Dave Chappelle, Patton Oswalt. He was smart enough to keep his mouth shut so as not to expose his idiocy.
Torrey DeVitto, who the internet tells me is an actress, said "Wisconsin." WRONG! Wisconsin is known for the show Happy Days, cheese, and 2nd amendment influencer Kyle Rittenhouse.
Candace Parker, who the internet tells me plays for something called the WNBA, said "Nebraska." NOPE! Nebraska is known for Larry the Cable Guy, former Senator Ben Sasse, and...I don't know, I guess this guy.
It's not like we expect celebrities to be among our best a brightest. Sure, corporate media will pretend they are when the celebrity has a leftist political opinion they agree with. But out in normal America -- like IOWA -- there is no expectation of celelbrity smarts. These three managed to not even exceed already low expectations.
Like, if you lay the bar on the ground and tell someone to step over it, these are three chuckleheads who still would not be able to clear it.
Editor's Note
LwC is on Substack now! Each day we overwhelm your brains with the content you've come to love from the Louder with Crowder Dot Com website.. but algorithms hide our ranting and raving as best they can. The best way to stick it to Big Tech? Subscribe to For the Content!
Indian CHADS Demolish Chinese Virgin Soldiers at Border! | Louder With Crowderyoutu.be