Each day we overwhelm your brains with the content you've come to love from the Louder with Crowder Dot Com website.
But Facebook is...you know, Facebook. Their algorithm hides our ranting and raving as best it can. The best way to stick it to Zuckerface?
Sign up for the LWC News Blast! Get your favorite right-wing commentary delivered directly to your inbox!
cringe
Florida democrat's tweet about Ron DeSantis, "butt plug porn" gets hit with greatest Community Notes of all time
March 13, 2023
If you were to mate an idiot with a moron and they gave birth to a bag of rocks, it would still be smarter than Florida Democrat Party Chairwoman Nikki Fried. What follows is the greatest self-own in the history of politics. Or if you want to dial back the hyperbole, at least Top 5. It involves Ron DeSantis and butt plug porn.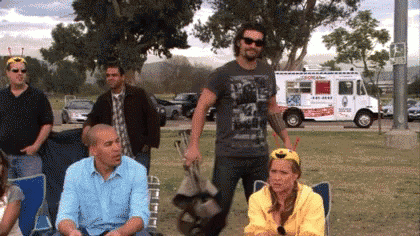 Fried accused America's Governor of posting butt plug porn. Though, in the governor's defense, he (allegedly) did so for the noblest of causes: to own the libs.
The chairwoman shared a screen capture of a video Team DeSantis tweeted out.
This video.
Warning: This video contains pornographic images and content not suitable for children. If you can't read these books at a school board meeting, should they be in a school? https://t.co/gHBoQh5eYa
— Taryn Fenske (@tarynfenske) March 8, 2023
It was the video Team DeSantis shared last week to expose the "book ban hoax" being spread by Democrats and the media (but I repeat myself). DeSantis is banning pornography that is available in Florida schools. Democrats and the media (again, repeating) who support and encourage pornography in schools have been lying that DeSantis is banning all books, leaving out the pornography part. The video gives examples of the ACTUAL books that are being removed from schools.
Nikki Fried, the Chairwoman of the Florida Democrat Party, blew up their spot by sharing a photo of a book available in elementary schools and admitting that it is porn. FURTHER DRIVEN HOME by the Community Notes now added to her tweet:

As my second favorite Florida conservative Trey Redel said, Fried recognized that a book made readily available to kids in public schools is - using her word here - porn. So really it's: "Fried posting porn to own the cons."
Methinks you will not be seeing Nikki Fried on MSNBC or CNN any time soon. Though having her explain her way out of this would be laugh-out-loud funny.
Editor's Note:
It's official. MugClub. Is. Back.
Everyone here at the team is thrilled to inform you that MugClub relaunches on March 20, 2023. It is bigger, it is better, it is more affordable, it will include MORE content than ever AND it's powered by Rumble!
Did I mention that the annual price has been lowered from $99 to $89?