Each day we overwhelm your brains with the content you've come to love from the Louder with Crowder Dot Com website.
But Facebook is...you know, Facebook. Their algorithm hides our ranting and raving as best it can. The best way to stick it to Zuckerface?
Sign up for the LWC News Blast! Get your favorite right-wing commentary delivered directly to your inbox!
Articles
BRITAIN: Schools Teaching Mandatory Classes on How to "Touch Yourself." For Six-Year-Olds.
September 25, 2019
If all goes according to the natural order of things, people spend most of their lives as adults. Despite this, it is the natural inclination of a child to want to "grow up." Adults, knowing it's really childhood which is special and limited, usually do whatever they can to protect the innocence of children, to allow them to be children and enjoy their childhoods. Leftists, however, see this natural innocence as another opportunity for exploitation. With that, according to the The Daily Mail, schools in the United Kingdom have introduced "self-stimulation" lessons for children as young as six.
Children as young as six are being taught about touching or 'stimulating' their own genitals as part of classes that will become compulsory in hundreds of primary schools.

Some parents believe the lessons – part of a controversial new sex and relationships teaching programme called All About Me – are 'sexualising' their young children.
Probably because the lessons are sexualizing their young children. "Self-stimulation" isn't finding compelling reading material about what dress Sally wore. "Self-stimulation" isn't referring to finding new outdoor hobbies when one is bored. God knows the UK wouldn't allow for such things as playing with sticks shaped like knives. No, no, these lessons are targeted toward six-year-olds on the proper ways and etiquette around diddling oneself.
Under a section called Touching Myself, teachers are advised to tell children that 'lots of people like to tickle or stroke themselves as it might feel nice'. They are also instructed to inform youngsters that this may include touching their 'private parts' and, that while some people may say this behaviour is 'dirty', it is in fact 'very normal'.
Look, we're all adults here. But that's the issue, isn't it? Adults can talk about this if they want. Louder with Crowder has made one or two thousand jokes about this topic. But we're all adults.
Why is there a rush to teach children about this? That's my main question. Let's circle back after you marvel at this flyer: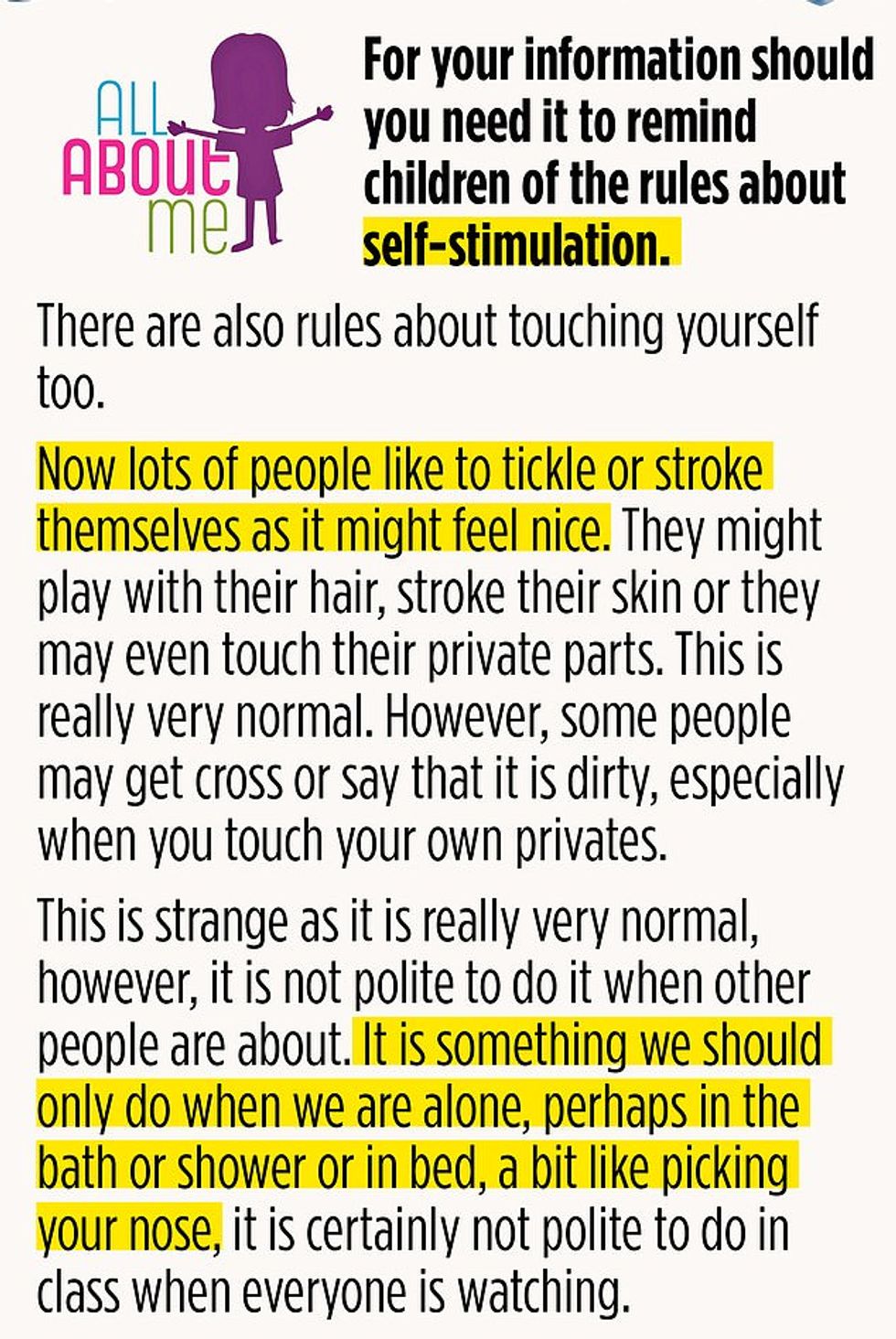 Leave it to the British to make sure "dirty" perceived behaviors are done politely. Yet free to discuss in school, for some reason.
Asked why 'self-stimulation' appeared in the Year Five lesson plans and why it was not in the non-compulsory sex education element of the programme, he said: 'Actually we refer to self-stimulation or self-soothing throughout the programme in earlier years as well. This is not sex education but actually information around safe and appropriate touching. However uncomfortable adults may find it, children of all ages will self-stimulate from time to time. They may do this when anxious or simply because it feels nice.'
This self-stimulation for six-year-olds is compulsory. As in mandatory. As in if you're a parent and you'd rather not have Nigel and Mary learn about the ways of tug rubbing or bean flicking, too bad. Besides, they're probably doing it anyway, so butt out mom and dad. The government school is here to explain to your children what the government decides. Nuts to you and all your squawking about parental rights. Who do you think you are, the Queen?
For now this story remains with the tea-swilling limeys who insist on putting currants in their desserts. But how soon before an inspired leftist with a set of dildos imports the lesson plans for America?
Warwickshire has introduced relationship lessons in some primaries ahead of the nationwide launch, including sessions addressing 'self-stimulation'. From next September, parents will not be able to withdraw children from these lessons.
Therein lies the rub. See what I did there? Parents won't be able to pull their children from lessons about pulling and rubbing themselves. The government is making the call.
Last I checked, the British government was run by a lot of leftists eager to put a kibosh on personal freedoms. Like having a knife to chop up a chicken. Regardless of their geographical location, a leftist is a leftist. Swanky accent and bad dental aside. There has long been a push from the left to sexualize children. Not because children will "touch themselves anyway." No, no. Because some adults want to take advantage.
We're talking about the same left which says it's fine to kill babies so long as their unborn (and maybe just a few minutes after), inject children with hormones so long as the child or parent of the child says its for the best, so how much of a stretch is it to say this same ideology is fine with taking a child to bed?
Here, let's review:
NOT SUBSCRIBED TO THE PODCAST? FIX THAT! IT'S COMPLETELY FREE ON BOTH ITUNES HERE AND SOUNDCLOUD HERE.