Each day we overwhelm your brains with the content you've come to love from the Louder with Crowder Dot Com website.
But Facebook is...you know, Facebook. Their algorithm hides our ranting and raving as best it can. The best way to stick it to Zuckerface?
Sign up for the LWC News Blast! Get your favorite right-wing commentary delivered directly to your inbox!
WATCH: BREAKING YouTube Election Meddling of Tulsi Gabbard
October 22, 2019
One time can be chalked up to a coincidence. But twice, now we have a pattern. So it seems to be with YouTube, who we busted as seemingly tinkering with our search results, thus affecting our overall views on the supposedly non-bias platform. I use words like "seemingly" and "apparently" in order to appease the legal gods, but let's be real. Tell me after seeing the following of searching for "Tulsi Gabbard" on YouTube that something nefarious isn't afoot.
The following YouTube evidence was captured on Friday, which was the day after the latest Democrat Debates. So you're aware, on Friday, Hillary Clinton claimed Tulsi Gabbard was propped up by Russians, and Tulsi's response had her trending #1 on Twitter on Friday night last week.
Tulsi responded on Twitter and later on Facebook.
That's when we decided to run some searches on YouTube, this time for "Tulsi Gabbard". The VPN is set to the United States, which matters most of all since those voting for Gabbard, Biden, Kamala, or She Who Isn't Cherokee should be residents of the USA. Then we switched the VPN to Spain. Check it out: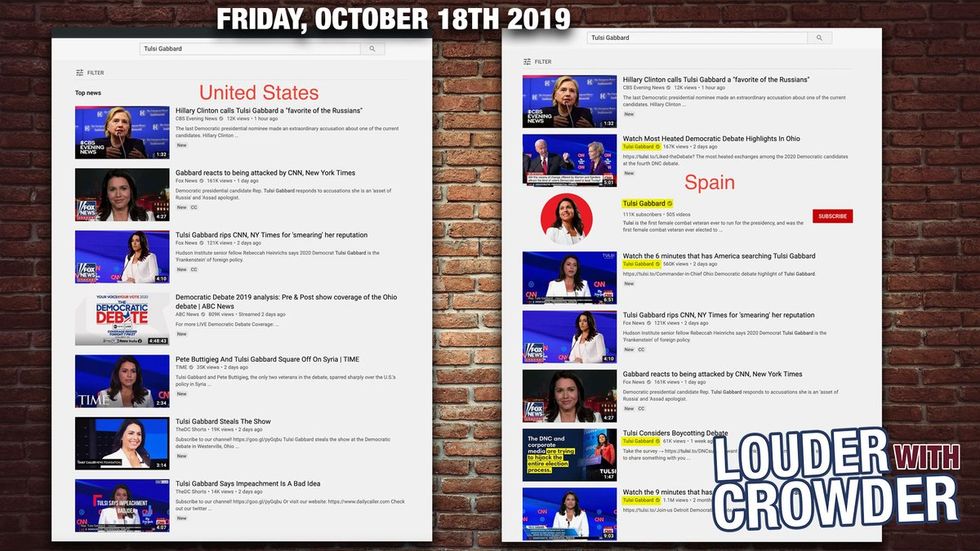 Friday video:
By Sunday, once the trend of Hillary Clinton's character assassinations had subsided, the results for the U.S. and other countries were switched back to being identical.
It's worth noting that Gabbard's channel is now omitted from both sets of results. So even though they are the same, Gabbard's channel isn't as prominent as before.
This should raise major red flags. The influence Big Tech has, and their willingness to manipulate information in the face of what should be a Democratic election, regardless of whether it's happening to someone you or I support or not, is alarming.
Let's jump ahead of some common points YouTube and Google will assuredly raise:
"This is simply algorithmic." Nope. Louder with Crowder, the channel, is unique in proving that point isn't true. Because our channel issue was fixed by someone manually. Someone flipped a switch. So ultimately, someone could or did flip a switch on Tulsi Gabbard.
YouTube may try to pass this off as an accident or result of a lower level employee's poor judgment, claiming this was an oversight and an individual didn't make the proper corrections, and they have since addressed the issue. Well sorry, but we don't buy that either. We've been in contact with decision makers at YouTube who are aware of these problems and engaging in damage control to fix it. It would stand to reason the status of a current presidential candidate who is suing YouTube would be under close watch from the world's biggest information/technology company, and she wouldn't be pawned off as a patsy for the higher-ups.
In the past, YouTube has consistently argued their algorithms, policies and results are often geographically dependent, designed to service audiences the most relevant content for their search.
Cute story, and one we've heard before. If that's the case, YouTube should explain to us, their shareholders and possibly a Congressional hearing as to why they believe it most appropriate to their audience to block the content of a United States Presidential Candidate in the country in which she is running. Seems a relevant question.
Seems there are a lot of relevant questions in need of some answers. Your move, YouTube.