Each day we overwhelm your brains with the content you've come to love from the Louder with Crowder Dot Com website.
But Facebook is...you know, Facebook. Their algorithm hides our ranting and raving as best it can. The best way to stick it to Zuckerface?
Sign up for the LWC News Blast! Get your favorite right-wing commentary delivered directly to your inbox!
Bradley Cooper target of social media outrage over prosthetic nose he wears in Leonard Bernstein biopic 'Maestro'
August 16, 2023
Update: Because I'm an idiot and got "Hallelujah" stuck in my head, I confused Leonard Bernstein with Leonard Cohen. The photo has been updated and I have admonished myself.
Bradley Cooper is in hot water. People are dropping X all over the app formally known as Twitter outraged over his prosthetic nose in the trailer of Netflix's new Leonard Bernstein biopic Maestro. Cooper stars and directs. If you focus on the words "nose" and "Bernstein," you can guess where this is going.
Netflix dropped the trailer on Tuesday. Enough people were upset about it instead of going outside to touch grass that NBC News decided to create content about the outrage.
Leonard Bernstein was Jewish. Bradley Cooper is not. Since Bernstein had a different nose than Cooper, the actor went with a prosthetic for authenticity. Seems harmless and a normal person wouldn't even notice. But enough outraged people dropped X over it that NBC News -- a recognized legitimate and trustworthy "news" source, which is what makes this news to react to -- cherry-picked a few tweets to highlight how OUTRAGED everyone is.
"Hollywood cast Bradley Cooper — a non Jew — to play Jewish legend Leonard Bernstein and stuck a disgusting exaggerated 'Jew nose' on him," cried one organization.
"Bradley Cooper is putting himself in an insanely large prosthetic nose to play a Jewish man in Maestro and we're all just supposed to act like that's cool and normal?" wonder another X user
"Just looked up a picture of the real Leonard Bernstein…. the big antisemitic prosthetic nose on Bradley Cooper was definitely not necessary…" proclaimed someone else. You be the judge: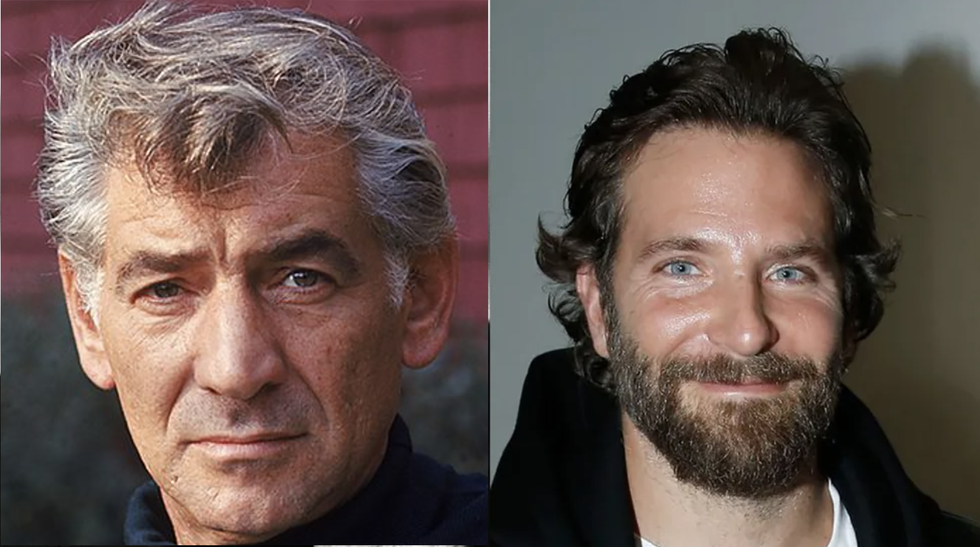 Others accused the actor of performing in "Jewface." Similar to how TikTok ingénue Dylan Mulvaney performs in "titface" even though he himself is not a girl.
Neither Cooper nor Netflix responded in time to NBC News's inquiries if they had an opinion about a handful of randos being upset with them on a social media app. If I were the guess, both of their PR firms are rushing an apology to the media as we speak.
><><><><><><
Brodigan is Grand Poobah of this here website and when he isn't writing words about things enjoys day drinking, pro-wrestling, and country music. You can find him on the Twitter too.
Facebook doesn't want you reading this post or any others lately. Their algorithm hides our stories and shenanigans as best it can. The best way to stick it to Zuckerface? Sign up for our DAILY EMAIL BLASTS! They can't stop us from delivering our content straight to your inbox. Yet.