Woke nincompoops are coming after "Bluey," accuse the world's greatest dad of being a fat shamer
May 05, 2023
You had to know this was coming. Too many normal people enjoy Bluey. A cartoon without a whiff of a leftist agenda can't go on without some woke twat complaining. You might think Bandit is the world's greatest dad. Turns out he's a fat shamer, and a small minority of idiots got the show edited.
Bandit, like 98% of the planet, stepped on the scale and didn't like the number he saw. So he started an exercise regime. According to Deadline, "viewers" complained that he was fat-shaming and setting a bad example in front of his children. I put "viewers" in finger quotes because Deadline only identified two of them. Someone claiming to be a kids' dietician, and a TikToker who analyzes a children's cartoon.
Aussie Girl Margie, a TikTok user who has built a following analyzing Bluey, said: "Apparently, Bluey is totally OK with fat shaming now. ... She added: "The fact they added in the scales and showed both parents being sad and disappointed after seeing the number on the scales, is pretty problematic."

Pediatric dietitian...

AKA, a DOCTOR whose job it is to care about children's DIETS.
...Dr Kyla Ringrose wrote: "Watching Bandit and Chilli weigh themselves and openly hate on their bodies in front of the kids was really uncomfortable."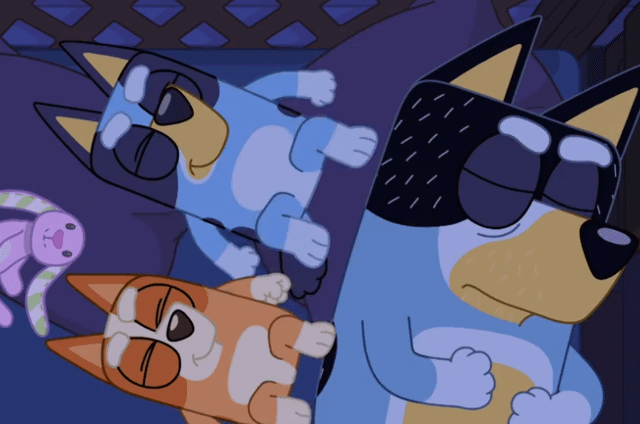 The problematic scene aired in Australia, but will be edited when the episode lands on Disney+.
This is where we are in the woke mind virus. Because a handful of fat f*cks want don't want to feel bad about being fat f*cks, no one can encourage a healthy lifestyle. Not even in schools. Doctors are expected to ignore basic health and science.
And a children's cartoon can't teach a valuable lesson about diet and the concept of calories in/calories out. This is what's considered inappropriate in children's programming.
><><><><><><
Brodigan is Grand Poobah of this here website and when he isn't writing words about things enjoys day drinking, pro-wrestling, and country music. You can find him on the Twitter too.
Facebook doesn't want you reading this post or any others lately. Their algorithm hides our stories and shenanigans as best it can. The best way to stick it to Zuckerface? Bookmark LouderWithCrowder.com and check us out throughout the day! Also, follow us on Instagram and Twitter.