Bloomberg Allegedly Told Mother Who Couldn't Find Babysitter: 'It's Just a F***ing Baby!'
February 18, 2020
Mike Bloomberg is currently ranked number two nationally among Democrats, even though he hasn't competed in any state yet. Not to mention, he's a detestable human being (see Bloomberg Basically Says Farmers Too Dumb to Learn to Code [VIDEO] and EXPOSED: Anti-Gun Bloomberg Caught Saying We Should Disarm Minorities). His inexplicable rise among Democrats could be the reason why the other campaigns are seemingly unloading all of the opposition research they have on El Bloombito. Like this gem, where Bloomberg (allegedly) shared his view on childcare with an employee.
Bloomberg was accused of telling a female employee who couldn't find a nanny for her child in 1993, "It's a fucking baby! All it does is eat and shit! It doesn't know the difference between you and anyone else! All you need is some black who doesn't even have to speak English to rescue it from a burning building!"
The keyword here is alleged. But.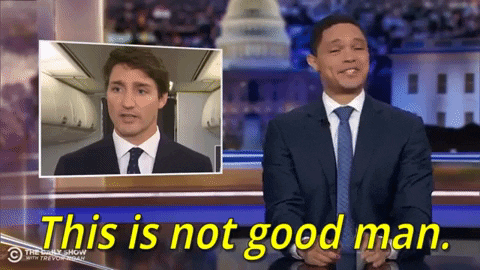 Yes, that's Trudeau. Just replace that image with Bloomers. Same sentiment applies.
Far be it from me to give Democrats advice. But if, deep down, you'd like to see a second Donald Trump term, please make Mike Bloomberg your nominee. The only prediction I'm still comfortable making about 2020 is that it's going to be a tough election. It's going to be tough for Donald Trump. It's going to be tough for whichever Democrat is nominated to run against Donald Trump. Unless that nominee is Mike Bloomberg. If Bloomy is the nominee, Trump wins 55 out of 57 states.
Though he probably still loses the popular vote, since the other two states are California and New York.