Bernie Sanders' Position on Felons Voting is Driving Cher to the Right?
April 23, 2019
Let this sink in for a second. The Democrat Party is swinging so far left, it's causing Cher to re-engage the thinking centers of her noggin. Last night during CNN's Town Hall which was so bad I nearly scooped my eyes out with a spork, Bernie announced he'd be totally fine with allowing felons to vote, including the Boston Bomber. This sentiment is in line with Bernie's past comments at the Fox News Town Hall where he said he'd be totally fine with murderers voting from prison. But so extreme is this position, Cher, crazy Cher, is throwing up her hands in incredulity.
Screen capture of a now deleted tweet: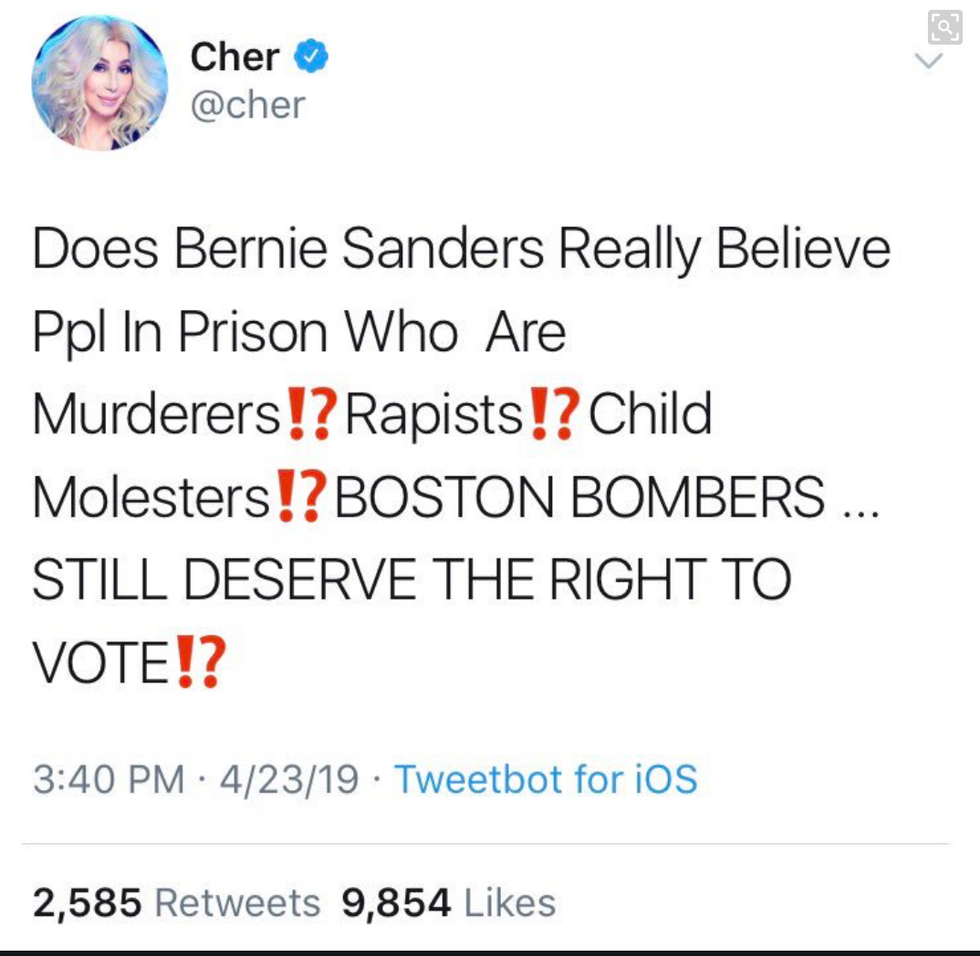 This is not the first time the left broke Cher. She's also not a fan of Trump sending illegal immigrants to her precious Los Angeles, which is a sanctuary city. Now if Cher has done the math and figured out sanctuary cities + MOAR illegals = bad, then one hopes she'll eventually figure out that sanctuary cities = Democrat policies, ergo Democrat policies = bad, ergo Democrats = bad.
With Bernie Sanders AND Kamala Harris being totally fine with murderers like the Boston Bomber checking a ballot, maybe it's only a matter of time before Cher makes another conclusion: Democrats want murders to vote + illegal immigrants in sanctuary cities + higher taxes = BAD!?
Only time will tell. Perhaps she'll take back all the words that hurt you, reach for the stars and give them all to you.
Sorry, but not really.
NOT SUBSCRIBED TO THE PODCAST? FIX THAT! IT'S COMPLETELY FREE ON BOTH ITUNES HERE AND SOUNDCLOUD HERE.