Each day we overwhelm your brains with the content you've come to love from the Louder with Crowder Dot Com website.
But Facebook is...you know, Facebook. Their algorithm hides our ranting and raving as best it can. The best way to stick it to Zuckerface?
Sign up for the LWC News Blast! Get your favorite right-wing commentary delivered directly to your inbox!
Articles
AOC: Politicians Failing Makes Her 'Never Want to Love Again' [WATCH]
November 11, 2019
Alexandria Ocasio-Cortez has hit the road with Bernie Sanders as part of their "You're Welcome, Conservative Bloggers" tour of Iowa (see Chief of Staff for Alexandria Ocasio-Cortez Admits Green New Deal isn't About Climate Change and Bernie Sanders Calls for Government to Pay College Tuition for Illegal Immigrants). Expect a lot more clips just like this one, where AOC says politicians failing her expectations makes her never want to love again. A pity Nora Ephron isn't alive to witness this tale of tragic love.
When you elect a politician, and then they let you down, it... feels like betrayal. It feels like I never want to love again. That's what that feels like.

But you know what happens when you say, 'I never want to love again'? Your heart gets black and you turn angry and get very anxious.
I'm fairly certain she's not being literal. Though it's not outside the realm of possibility that when a politician says something Alexandria finds displeasing, she writes their name in her burn book. Just imagine her writing "Fugly slut" over and over again, with little X marks for eyes. I can just see her now in her sweatpants, collaging in her hate book. I'm just wondering what color the book is and if it's fuzzy. To be charitable, AOC comparing political failings to romantic rejection was probably her way of rallying the troops. To each their own. The ability to make sense isn't a yooman right.
However, if you want the government to run every aspect of your life, so much so that you pin your hopes and dreams on a politician who is adept at social media, you deserve to have your heart ripped out, stomped on, spat upon, and otherwise so far ruined not even Planned Parenthood can sell off the parts. If you let yourself fall for elected officials telling you if you don't support what they support, then people are literally going to die, you deserve worse than a broken heart. Because you dumb. And you should feel dumb.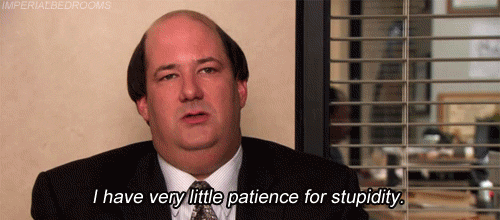 There's a reason 70% of Democrats say politics is driving them mad. Because politics is all that they have.
Some advice to the mindless lemmings who hang on AOC's every breath: Go outside, get some fresh air. Go pet a puppy. Enjoy what life has already blessed you with, limited though it may be. If you're going to cry about what the government isn't doing for you, at least make yourself semi-useful: record it and send it to the Donald Trump Re-Election Campaign.