Each day we overwhelm your brains with the content you've come to love from the Louder with Crowder Dot Com website.
But Facebook is...you know, Facebook. Their algorithm hides our ranting and raving as best it can. The best way to stick it to Zuckerface?
Sign up for the LWC News Blast! Get your favorite right-wing commentary delivered directly to your inbox!
Big Tech
#YouTube2020ElectionBlacklist: Big Tech Maybe Trying to Swing an Election and We Need Your Help
September 26, 2019
So here's what's going on. YouTube is changing things behind the scenes, and as a result, our viewership has been dramatically cut. But we've already been demonetized. We already know YouTube and Big Tech, in general, are out for us. But they're out for us because we're a dissenting voice from the accepted leftist mainstream. Big Tech limiting our reach to you means they don't want YOU to hear us. Because they don't want YOU to be exposed to anything but their narrative. Because they are afraid of the power you have to make your own decisions when given the option to. Which is why this battle matters so much.
First, the evidence:
Specifically, here's what's happening. Go search "Steven Crowder" in YouTube. What will pop up is our channel then videos about us but not videos from us.
Now sure, maybe one explanation is we suck at YouTube SEO. Or maybe YouTube is playing games. Try it yourself with something specific. Go to YouTube to search "Steven Crowder Change my Mind" and notice what videos do not come up first.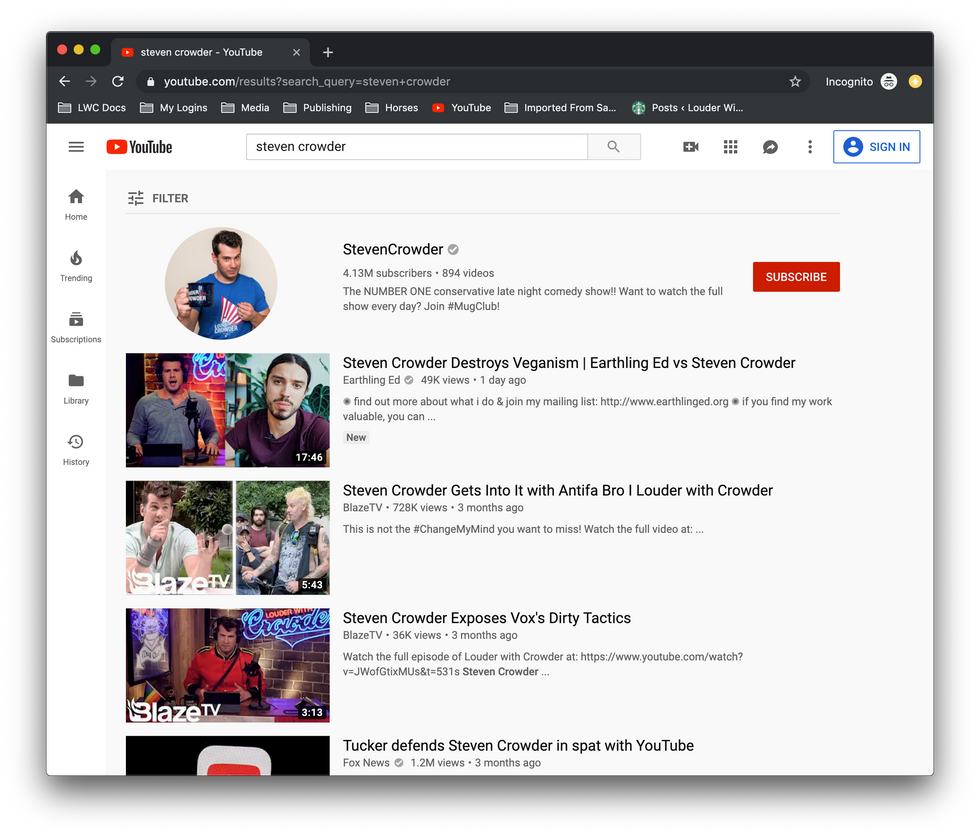 I used an incognito window when searching "steven crowder" above.
Now check a non-political channel like Phil DeFranco or Jenna Marbles. Search their names, their videos come up with their channel.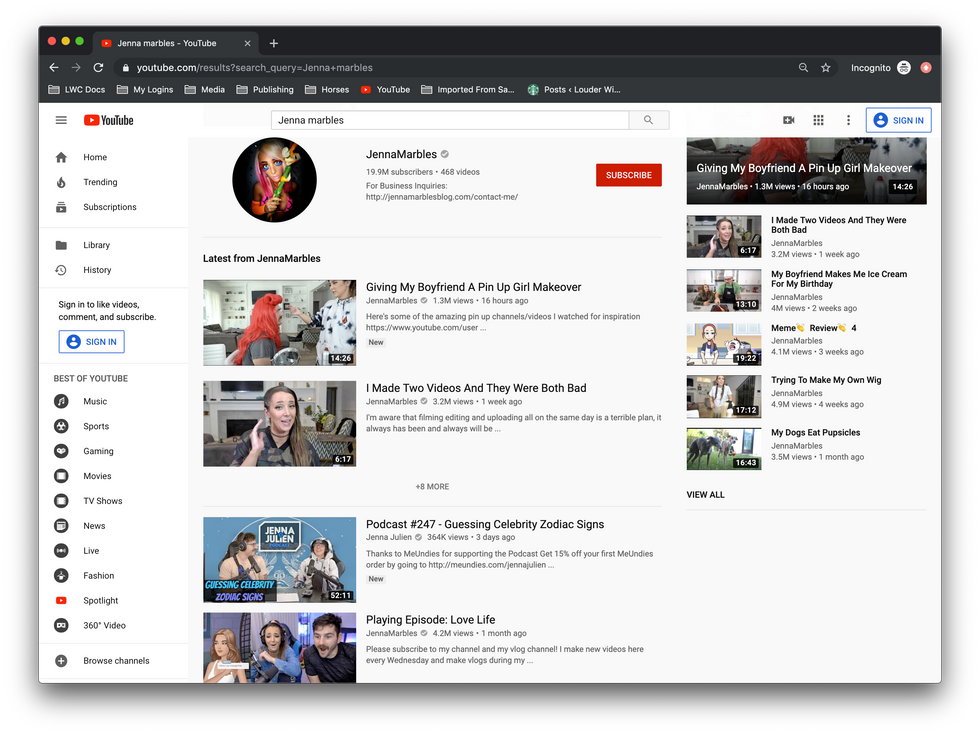 It is plain and simple. We already know the kind of power Google has to swing elections. WATCH: Respected Psychologist Exposes How Big Tech Can Swing Elections.
To quote Steven "here's the thing" about all this. It's not just YouTube. Facebook has been against us for a while. Their game now is not to deplatform us, since we're too noisy. So they're limiting our reach to you. They're not even hiding it, they're flagging our page for clickbait when the articles clearly aren't clickbait. In my opinion, this effort from Big Tech is coordinated. Maybe not against Louder with Crowder personally, but against anyone who dare not be a leftist.
So how can you help? For YouTube, hit the notification bell and check our page every day. Being a Mug Club subscriber is also a big help. For this website, bookmark this page and/or sign up for our newsletter. If you're already signed up, this very post will head your way.
On Twitter, we're using the #YouTubeElectionBlacklist to spread the word about what YouTube and Big Tech are possibly up to doing to swing this election. We're for sure in the information/awareness spreading phase of this fight, and we need you to help us get the message out with us.
We are formulating a battle plan and intend on pushing back against what Big Tech is doing. Yes, we'll discuss it on tonight's show, so please tune in!
NOT SUBSCRIBED TO THE PODCAST? FIX THAT! IT'S COMPLETELY FREE ON BOTH ITUNES HERE AND SOUNDCLOUD HERE.