Each day we overwhelm your brains with the content you've come to love from the Louder with Crowder Dot Com website.
But Facebook is...you know, Facebook. Their algorithm hides our ranting and raving as best it can. The best way to stick it to Zuckerface?
Sign up for the LWC News Blast! Get your favorite right-wing commentary delivered directly to your inbox!
For the Content
MMA legend won't stop roasting John Cena over his faux 'inspirational' quotes and it's the best thing on Twitter
November 04, 2022
Chael Sonnen is a national treasure. He's an All-American, has a blackbelt in BJJ, and a great mind for mixed martial arts. He also has beef with John Cena.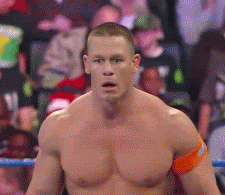 (I wanted a gif of AJ Styles and The Club saying "BEAT UP JOHN CENA" but it doesn't exist)
It may not be "beef" as much as Sonnen can't stand John Cena's social media use. Namely, Cena having his assistant tweet out inspirational quotes they found on the internet in an attempt to make Cena look "deep" or "intellectual." Sonnen can't stop sh*tting on him for it, and it's fantastic.
If I spent the rest of my life with nothing but a dictionary, thesaurus, and something to write with, I will never come up with a better sentence than "It seems to be ridiculing itself; like a perfect organism of stupidity that requires no outside factors to survive."
Sonnen is a poet laurete of Twitter roasts.
His descriptive way to paint visuals is unparrelled. You can SEE John Cena doing this.
Chael is also a master of anaologies.
And a man who isn't afraid to reach out for help when he finds himself in times of trouble.
Only Chanel Sonnen knows why he decided to make sh*tting on John Cena his cause du joir. I'm just thankful for the laughs.
><><><><><><
Brodigan is Grand Poobah of this here website and when he isn't writing words about things enjoys day drinking, pro-wrestling, and country music. You can find him on the Twitter too.
Facebook doesn't want you reading this post or any others lately. Their algorithm hides our stories and shenanigans as best it can. The best way to stick it to Zuckerface? Sign up for our DAILY EMAIL BLASTS! They can't stop us from delivering our content straight to your inbox. Yet.