Each day we overwhelm your brains with the content you've come to love from the Louder with Crowder Dot Com website.
But Facebook is...you know, Facebook. Their algorithm hides our ranting and raving as best it can. The best way to stick it to Zuckerface?
Sign up for the LWC News Blast! Get your favorite right-wing commentary delivered directly to your inbox!
Waffle House drama takes place outside for a change as police stop a high-speed green tractor chase with guns drawn
July 15, 2023
We here at the Louder with Crowder Dot Com website love ourselves some Waffle House content. This one remixes the genre. It takes place outside instead of inside. It's in the middle of the afternoon instead of the middle of the night. And while I can guess alcohol was involved, this one boasts cops, guns, and a big green tractor.
Enjoy. We'll make with the context at the other end.
WSB-TV has the call. Georgia police got word that a John Deere tractor was stolen and to be on the lookout. Officers spotted a John Deere tractor pulling a John Deere lawnmower behind it (I sware this isn't John Deere sponsored content) and figured that must be their man. Cops were in hot pursuit. Or, lukewarm pursuit. They were barely going 20 mph. You know, what with it being a big green tractor.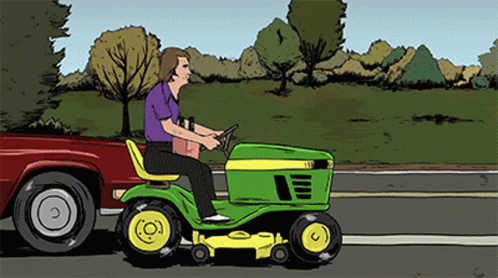 The man ackshually crashed through a McDonalds parking lot first, but no one enjoying their Sausage McGriddle thought to do it for the content. Waffle House customers always have their phones on the ready because you never know when it's going to pop off:
Police put an end to this man's running. Guns drawn, and as the tractor crashed into a police car, the man was pulled out of the tractor, pepper sprayed, and arrested. No word on what the tractor thief was charged with. Also, no word on the man's motive, so let's make one up.
Our dude took who he thought was his lady friend for a nice weekend getaway in downtown College Park, Georgia. It was there that he got the "I like you as a friend" speech. Distraught and a six-pack in, he saw the tractor with the keys in it and went for a ride. Singing Jason Aldean's "Big Green Tractor " the entire time. Why? Because down through the woods or out to the pasture, as long as he's with her, it really don't matter.
Instead, the girl is back with her ex-boyfriend and he's in county lockup. Life can be so unfair.
><><><><><><
Brodigan is Grand Poobah of this here website and when he isn't writing words about things enjoys day drinking, pro-wrestling, and country music. You can find him on the Twitter too.
Facebook doesn't want you reading this post or any others lately. Their algorithm hides our stories and shenanigans as best it can. The best way to stick it to Zuckerface? Sign up for our DAILY EMAIL BLASTS! They can't stop us from delivering our content straight to your inbox. Yet.