Each day we overwhelm your brains with the content you've come to love from the Louder with Crowder Dot Com website.
But Facebook is...you know, Facebook. Their algorithm hides our ranting and raving as best it can. The best way to stick it to Zuckerface?
Sign up for the LWC News Blast! Get your favorite right-wing commentary delivered directly to your inbox!
2020 Election
This Bloomberg Supporter Dance is Cringier than Buttigieg Supporters [VIDEO]
December 13, 2019
The results of the UK elections, where a Trump-like figure ran a train on a Bernie/Warren/AOC? et al. like figure, should at least send a warning to Democrats running for president. Voters want common-sense solutions over radical change. If the current guy in charge is someone they dislike personally, they won't vote against them if the other guy is insane. You hear it over and over. All Democrats have to be is not insane. Instead, they want to have dance-offs. As this video from Mike Bloomberg supporters illustrates.
Look out #TeamPete because us Bloomberg Heads have our own dance! Taken at the Mike Bloomberg rally in Beverly Hill… https://t.co/YMKwl19jsg

— Nick Ciarelli (@Nick Ciarelli) 1576213812.0
Y'all aren't really calling yourselves "Bloomberg Heads," are you? Because... just, no. What exactly is a "move like Bloomberg?" He's going to amend the constitution to ban drinking soda with a straw? Because he banned soda and straws? Leave it to them to find a song sung by someone who manages to be a bigger douche than the former mayor of New York City.
The worst part is they purposely staged a dance to "clap back" to the now infamous Buttgig dance. All the money that Bloomy is setting on fire for his campaign, and his consultants think THAT is going to make Democrats heart emoji him. Trump has the winningest economy ever, and Democrats are combating it with a dance-off.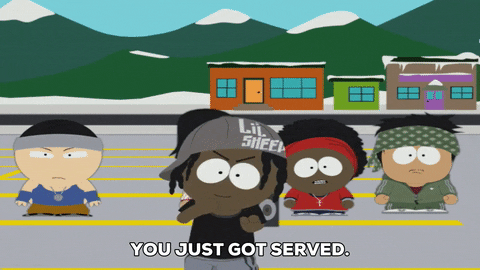 Actually, bump that. South Park is too cool of a reaction .gif to accurately describe what's going on here.
A'ight, that's more like it.
My general assessment of the 2020 race is it's not going to be a cakewalk for anyone. Not for Trump. Not for whoever leftists choose to run against Trump. I'd like to amend my prediction though. Let's say, for some inexplicable reason, Democrats decide that Mike Bloomberg is their guy. A politician that makes Hillary Clinton look like someone you'd enjoy being around. If that's the case, Trump wins 48 states.