Each day we overwhelm your brains with the content you've come to love from the Louder with Crowder Dot Com website.
But Facebook is...you know, Facebook. Their algorithm hides our ranting and raving as best it can. The best way to stick it to Zuckerface?
Sign up for the LWC News Blast! Get your favorite right-wing commentary delivered directly to your inbox!
Watch: Starbucks barista fills adult diaper with whipped cream (that they wear for kink) and we have questions
September 16, 2023
VOTE IN THE LWC 2024 GOP STRAW POLL! CLICK HERE!
There was a time when I considered @LIbsOfTikTok to be our most valuable asset that need to be protected at all costs. But it is clear they're a menace introducing us to degeneracy from all walks of life. I could have gone my entire life not knowing grown adults wear diapers out of some kind of baby kink. I can't anymore. And now neither can you.
Gone are the good old days when talking about a grown man filling his diaper was reserved for Joe Biden not knowing who pooped in his pants. Instead, we have a Starbucks barista, a bottle of whipped cream, and a cup of ice.
Remember this the next time you order a Frappuccino and they ask if you want whipped cream. Also, you may want to check out those videos that show how much sugar is in them.
If the diaper tweet isn't embedding (Elon's X has been extra sensory lately), LOTT has the video on their website. Along with a response from the Missouri Department of Health & Senior Services. Turns out, taking your pants off and sticking a whipped cream canister into your adult diaper breaks all sorts of health codes. The inquiry has been forwarded to the proper division for a full investigation.
This all begs the question... dafuq? This wasn't a hidden video. You could tell the person recorded it themselves. The tweet says something about blackmail, but as #you can see #with the #excessive #use #of hashtags, they wanted this out there.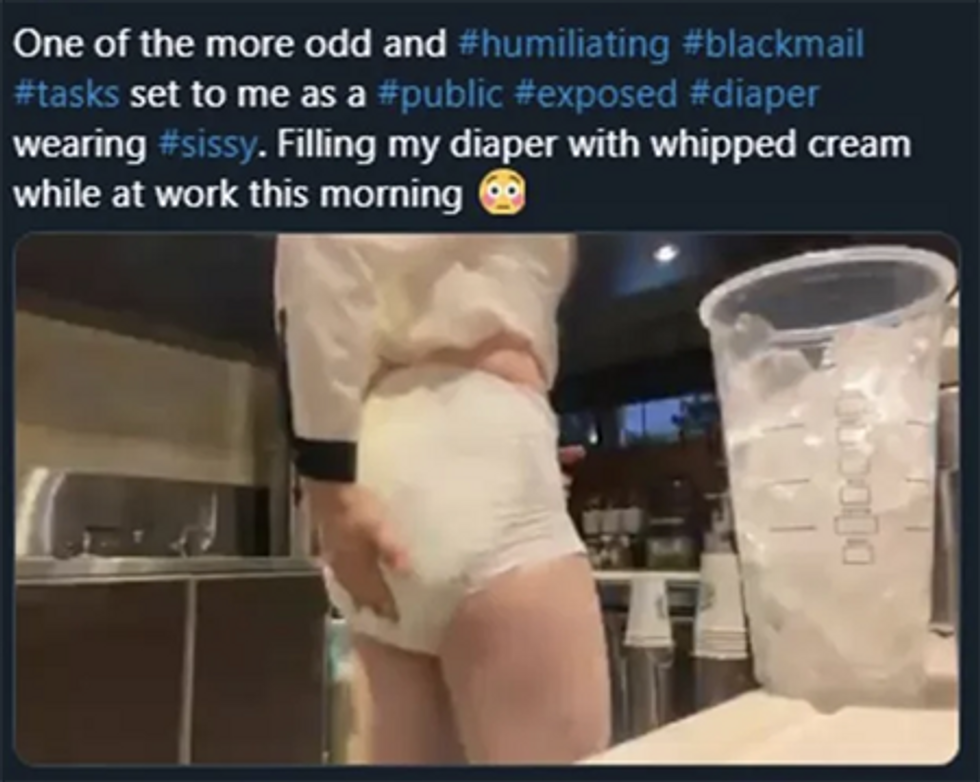 Homeboy woke up one morning, put on a diaper, drove to work early, and set up his iPhone just to record himself squirting whipped cream in his ass.
There's got to be a perverse street cred that progressive weirdos get when they got @LIbsOfTikTok famous. Not unlike when preschool teachers post videos bragging about how they emotionally abuse small children when they're a captive audience. Going viral on @LOTT is like a congressional medal of honor for degenerates.
><><><><><><
Brodigan is Grand Poobah of this here website and when he isn't writing words about things enjoys day drinking, pro-wrestling, and country music. You can find him on the Twitter too.
Facebook doesn't want you reading this post or any others lately. Their algorithm hides our stories and shenanigans as best it can. The best way to stick it to Zuckerface? Sign up for our DAILY EMAIL BLASTS! They can't stop us from delivering our content straight to your inbox. Yet.