Each day we overwhelm your brains with the content you've come to love from the Louder with Crowder Dot Com website.
But Facebook is...you know, Facebook. Their algorithm hides our ranting and raving as best it can. The best way to stick it to Zuckerface?
Sign up for the LWC News Blast! Get your favorite right-wing commentary delivered directly to your inbox!
Articles
South Dakota's New Plan to Tackle Meth is Not Good
November 18, 2019
Here lies a truly terrible methamphetamine campaign from South Dakota. At least the word is getting out. People are discussing South Dakota's meth problem now. Probably not the way they wanted people to talk about it, with much jeering and slapping of hands to knees, but at least we're spelling "South Dakota" correctly. No such thing as bad publicity, am I right?
You tell me if this wouldn't look bitchin on the side of Walt and Jessie's Winnebago:
South Dakota has launched a campaign to combat meth. With this new logo. https://t.co/u5l7HF7mK9 https://t.co/OvRjkCqlHl

— Mike Baker (@Mike Baker) 1574110296.0
Right off, I love how South Dakota is really embracing the shape of South Dakota. The rest of the nation, if they care, has to look at a map of the United States because we forgot fourth and fifth grade and what the states all look like. California and Texas don't count, you guys look funny. Neither do you, Florida, just stick to being as weird as you stick out into the gulf.
Secondly, great color scheme. Earwax brown on black. Like the colors of a meth-head's chompers. A little on the nose but I'll allow it.
Third, "Meth. We're On It." Double meanings are usually great in marketing campaigns. The smiley face Amazon logo pointing from A to Z, the hidden arrow in FedEx signaling forward momentum, are just two that pop to mind.
But this one implies everyone in South Dakota is on meth, not just that they're on the problem of meth, nor tackling the problem of meth together. Maybe that's just me?
"The tagline is: I'm on meth," says the governor of South Dakota, ON VIDEO. Well, the campaign is sure to achieve… https://t.co/Lfr1E8IM3X

— Mike Baker (@Mike Baker) 1574112583.0
See, when someone asks me to do a thing, I say "I'm on it." It's fine. But there are double meanings and double entendres one needs to watch out for. Much like stepping through a dog park. Barefoot. Especially with sex or drugs. Consider, if you will, this scenario:
Someone: "Hey, how's that big package coming along?"
Me: "I'm on it."
Brodigan: "That's what she said."
Me: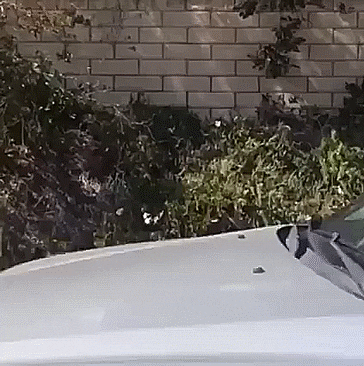 Fine for inter-office banter, not fine for a marketing campaign which might have cost the taxpayers oodles of money. To be the national laughingstock at least for today.
If you want your campaign to be taken seriously, then take it seriously and consider it from all sides. Especially the side of the internet filled with immature cyber-monkies who cannot help themselves. I dabble with that side of the internet. I treat the line dividing the sides as a jump rope. Even if sometimes it whips me in the ass. Which isn't an invitation for more sex jokes, but I do understand some on the internet will go there.
This "Meth. We're On It" campaign reminds me of the "South Lake Union Transit."
Read it over. Take your time.
Logos and taglines. They're not for everyone.
NOT SUBSCRIBED TO THE PODCAST? FIX THAT! IT'S COMPLETELY FREE ON BOTH ITUNES HERE AND SOUNDCLOUD HERE.