Each day we overwhelm your brains with the content you've come to love from the Louder with Crowder Dot Com website.
But Facebook is...you know, Facebook. Their algorithm hides our ranting and raving as best it can. The best way to stick it to Zuckerface?
Sign up for the LWC News Blast! Get your favorite right-wing commentary delivered directly to your inbox!
SHOW NOTES: Is Jon Stewart a Conspiracy Theorist?! Lab Leak Theory Goes Mainstream
June 15, 2021
Jon Stewart went off script last night and made some jokes the Left will NOT be happy with. Will YouTube remove his video? Will it remove this video when we point out Wuhan DID have bats? Also, Chuck Schumer is getting away with using the R-word, and the latest Georgia ballot audit.
Is Jon Stewart a Conspiracy Theorist?! Lab Leak Theory Goes Mainstream | Louder with Crowderyoutu.be
FULTON COUNTY MISSING TRANSFER FORMS

Yesterday, CNN reported about the new investigation into Fulton County, Georgia, for allegedly violating ballot dropbox form rules. SOURCE: CNN
Secretary of State Brad Raffensberger's office confirmed the investigation to CNN and also wrote in a tweet, "New revelations that Fulton County is unable to produce all ballot dropbox transfer documents will be investigated thoroughly, as we have with other counties that failed to follow Georgia rules and regulations regarding drop boxes. This cannot continue." SOURCE: Twitter
This announcement came after the conservative site Georgia Star News reported a Fulton County election official admitted that "a few forms are missing." SOURCES: GeorgiaStarNews, GeorgiaStarNews

The Georgia Star News previously published the 1,180 transfer forms allegedly provided to them by Fulton County via Open Records requests — 385 short of the total 1,565.
If all 385 of these forms are missing, that would mean the chain of custody was broken for over 18,000 ballots.
ANOTHER COVID LAB LIE
Over the weekend, Sky News Australia revealed exclusive footage from inside the Wuhan lab, showing they kept live bats for gain-of-function research. SOURCE: SkyNews

This refutes claims from WHO investigator and EcoHealth Alliance President Peter Daszak that no bats were kept at the lab.
In a tweet from December 2020, this one NOT deleted, Daszak wrote: "This is a widely circulated conspiracy theory [...] They DO NOT have live or dead bats in them. There is no evidence anywhere that this happened." SOURCE: Twitter
In a now-deleted tweet from December 2020, Daszak wrote: "No BATS were sent to Wuhan lab for genetic analyses of viruses collected in the field [...] We collect bat samples, send them to the lab. We RELEASE bats where we catch them!"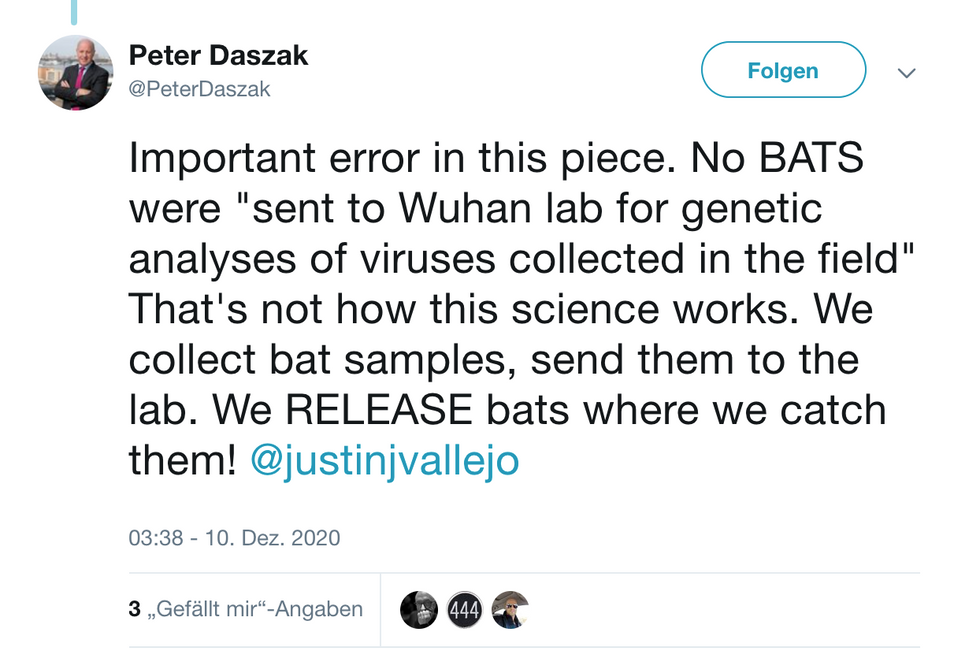 DEMOCRATS DON'T PAY TAXES

Joe Biden avoided paying taxes for years.

Biden and his wife, Jill, made $13.3 million in income from book and speaking tours from 2017 to 2018. SOURCE: Wall Street Journal
They avoided paying over $500,000 in payroll taxes by classifying the income as S-corporation profits rather than taxable wages.
That's the tax loophole Obama and Biden tried to close. SOURCE: Wall Street Journal

Bernie Sanders emphasized the need for the wealthiest to pay their "fair share" in order to give everyone else free stuff. SOURCE: Twitter

But in 2014, Bernie Sanders and his wife Jane took over $60,000 in tax deductions. SOURCE: Heavy
And in 2010, Jane allegedly bolstered donor commitments, and Bernie's office improperly used its influence to secure a $10 million loan to purchase 33 acres of land for Burlington College, where Jane was president. SOURCE: CBS
The college ended up crippled with debt and was forced to close, but not without paying Jane a $200,000 severance. SOURCE: New York Times

Tim Geithner, Obama's secretary of the treasury, also said the rich need to start paying their fair share. In 2008, Geithner had to pay back over $480,000 after an audit by the Senate Budget Committee revealed Geithner underpaid federal taxes from 2001- to 2006. SOURCES: YouTube, New York Times
Current climate czar John Kerry, during his time as a senator, said the federal government knows how to spend your money better than you do. But in 2010, John Kerry avoided paying $500K in taxes by docking his family's $7 million yacht "Isabel" out of state. SOURCES: YouTube, Huffington Post
Ilhan Omar accused her Republican colleagues of irresponsibly giving tax cuts to the wealthy. But in 2014 and 2015, Ilhan Omar illegally filed joint tax returns with her current husband before they were married. She was with her brother-husband at the time. SOURCES: Twitter, AP
Hillary Clinton criticized Donald Trump for not releasing his tax returns during the 2016 election cycle. SOURCE: Twitter

Financial analysts Lawrence Doyle and John Moynihan of DM Income Advisors alleged the Clinton foundation owes anywhere from $400 million to $2.5 billion in taxes and submitted complaints to the IRS. SOURCE: EpochTimes
The Clintons allegedly avoided these taxes by classifying their foundation as a "charity."

How much do these hypocrites ACTUALLY give to charity?

CLINTONS: From 2007 to 2014, Bill and Hillary gave $15 million to charity out of $141 million total revenue. SOURCE: CNN

99% of their donations actually went to their own nonprofit, the Clinton Family Foundation.
Most of the remaining 1% went to Clinton-affiliated groups.
And the Clinton Family Foundation has neither staff nor offices. SOURCE: Snopes

BERNIE: In 2016, after writing a book that made him a millionaire, Bernie Sanders gave $10,000 to charity, which is less than 1% of his income. SOURCE: Business Insider
BIDEN: From 1998 to 2008, Joe Biden gave an average of $369 a YEAR to charity. SOURCE: ABC

The highest amount Biden gave was $995 in 2007, or about 0.3% of Biden's income.
The lowest was just $120 in 1999, 0.1% of his income.
Get your content free from Big Tech's filter. Bookmark this website and sign up for our newsletter!