Each day we overwhelm your brains with the content you've come to love from the Louder with Crowder Dot Com website.
But Facebook is...you know, Facebook. Their algorithm hides our ranting and raving as best it can. The best way to stick it to Zuckerface?
Sign up for the LWC News Blast! Get your favorite right-wing commentary delivered directly to your inbox!
Comedy
Watch Stephen Colbert Squirm as Jon Stewart Leans Into Wuhan Lab Theory
June 15, 2021
The powers that be in the independent "fact" checking research institute have declared that the "lab leak theory" is something we're allowed to discuss on Facebook. Enough sciencey people not named Trump have come to the conclusion that maybe, just maybe, the virus that ravaged the planet may have been caused by the institute that shares the same name as the virus that has ravaged the planet. And not a moment too soon! I don't think Jon Stewart could have held this in any longer.
Come for the laughs. Stay for Stephen Colbert not knowing what to do when Stewart isn't repeating DNC talking points.
Jon Stewart On Vaccine Science And The Wuhan Lab Theoryyoutu.be
Science has in many ways helped ease the suffering of this pandemic, which was more than likely caused by science.

OH MY GOD! There's been an outbreak of chocolatey goodness near Hershey, Pennsylvania. What do you think happened?

"Curiosity killed the cat." Okay, so let's kill ten thousand cats to find out why.

I've been alone for so long. And when I realized the laboratory was having the same name as the evil that has been plaguing us, I thought to myself "that's f*cked up."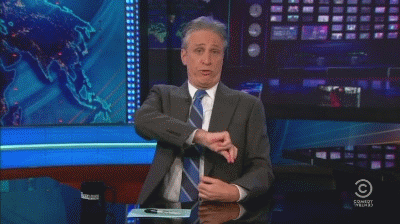 If Jon Stewart still had a show, would he have done this same bit last year before Big Tech and the media deemed it acceptable? I'd like to think so. Stewart has always been one of the more intellectually honest lefties, even though I know that we disagree on 90% of actual issues. I'm also not entirely sure that the media WILL find this bit acceptable. Once I finish my coffee, I'm expecting to see bloggers criticizing the comedian because too many conservatives are sharing this clip and finding it humorous. "OMG, DOESN'T JON STEWART KNOW IT'S HASHTAG STOP ASIAN HATE! HE'S LITERALLY NO BETTER THAN TRUMP SAYING 'KUNG FLU.' I'M LITERALLY SHAKING RIGHT NOW!"
Sometimes it's not about politics and just about the comedy. Jon Stewart ran to where the comedy was. In the olden days, that's what comedians were known for.
Get your content free from Big Tech's filter. Bookmark this website and sign up for our newsletter!
The DUMBEST THINGS AOC Has Said (so far) This Year! | Louder With Crowderyoutu.be