Each day we overwhelm your brains with the content you've come to love from the Louder with Crowder Dot Com website.
But Facebook is...you know, Facebook. Their algorithm hides our ranting and raving as best it can. The best way to stick it to Zuckerface?
Sign up for the LWC News Blast! Get your favorite right-wing commentary delivered directly to your inbox!
crime
Watch: Storeowner traps shoplifter UNDER the door shutters until cops show up to arrest him
June 18, 2023
"Yeah, that's me. You're probably wondering how I got in this predicament."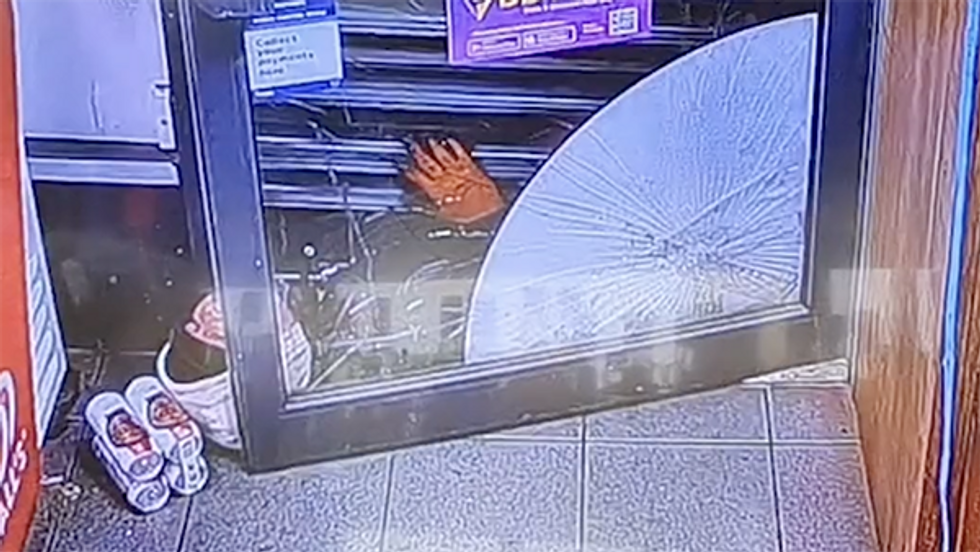 The man is Martin Trimble. One day last week, he walked into a Durgan City convenience store and attempted to steal a four-pack of beer with a knife. Martin didn't think things through, because one of the employees fled the store to hold the door shut. When Martin tried escaping, the store owner lowered the security shutters as Martin attempted his best "Han Solo escaping the Death Star" by sliding under the shutters.

SPOILER: Harrison Ford utilizes stunt doubles.
\u201cNow THIS is how you stop shoplifting.\u201d

— Louder with Crowder Dot Com (@Louder with Crowder Dot Com) 1687096964
Detective Sergeant Paul Mawson arrived on the scene to arrest the epic fail of a thug, but not before dropping an all-time cop pun: "It wasn't the most difficult arrest we have ever made. To be honest, it was an open and shut case."
Martin had nothing left to do but chug the beer he attempted to steal. Might as well, right? He's already charged with attempted robbery. An extra £4.75 for a four-pack on top of that won't hurt. That's a little over six dollars in normal, American money.
It is not a total loss for Mawson, though. My man has earned the #1 spot in LWC's Favorite Beer Related Arrests and LWC's Favorite Shoplifting fails.
The previous winner for beer arrests was the dude who got arrested for DUI while dressed like a giant can of Bud Light.
The derpiest shoplifter went to the guy who attempted to steal $18000 worth of Luis Vuitton, but confused a door for a window.
><><><><><><
Brodigan is Grand Poobah of this here website and when he isn't writing words about things enjoys day drinking, pro-wrestling, and country music. You can find him on the Twitter too.
Facebook doesn't want you reading this post or any others lately. Their algorithm hides our stories and shenanigans as best it can. The best way to stick it to Zuckerface? Sign up for our DAILY EMAIL BLASTS! They can't stop us from delivering our content straight to your inbox. Yet.