Sabo Strikes Again with "Once Upon a Time in Pedowood" Billboard
July 26, 2019
For some reason, sick, extreme leftists think pedophilia is just swell. Note I'm saying "extreme leftists." Not all leftists. Just the whacked ones who, if they suddenly removed themselves from the gene pool, I wouldn't cry for. One place where pedophilia reigns Happy Meal supreme is Hollywood. Land of milk and sippy cups spiked with roofies. Urban hero Sabo, who's been quite active in his fine artworks mocking Hollywood's rape culture problem, tackled Hollywood's pedophilia problem by remaking a Billboard for Tarantino's "Once Upon a Time in Hollywood" with a few notable improvements. Behold:
Sabo Strikes Hollywood Again! Billboard for Quentin Tarantino's 'Once Upon a Time in Hollywood' Renamed 'Once Upo… https://t.co/8juxdY5iZc

— An Open Secret (@An Open Secret) 1564170382.0
Here are those images pulled out of the tweet, for your viewing delight: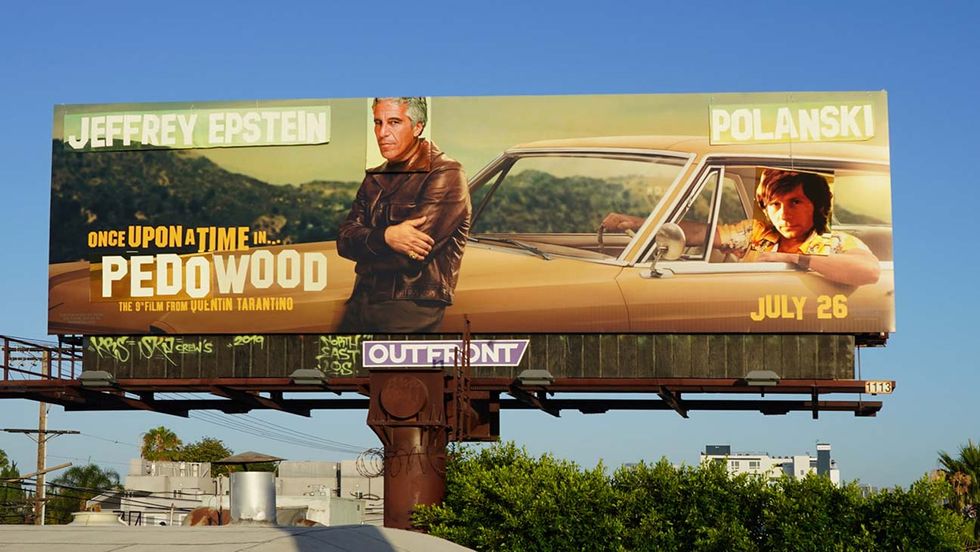 Featuring Jeffery Epstein and Roman Polanski.
This park bench swapped Polanski for Woody Allen, who married his adopted stepdaughter.
Jeffery Epstein has a legendary "alleged" history of sex trafficking in young, underage girls. From The Wall Street Journal:
Mr. Epstein, who was denied bail and will remain in federal custody pending trial, has pleaded not guilty to sex-trafficking charges stemming from what prosecutors allege was a yearslong scheme from 2002 to 2005 to recruit and sexually abuse dozens of girls.

In a recent court filing, prosecutors said that entities controlled by Mr. Epstein own at least two private jets in active service, and that at least one of them is capable of traveling internationally. He frequently traveled by private jet between his homes in New York and Palm Beach, Fla., according to the indictment against him. Mr. Epstein's lawyers said he owns one private jet and sold the other one last month.
He caters parties for the super-rich and famous, including a lot of media members, politicians like Bill Clinton, and probably a few Republicans. Sorry.
Sabo's art rendering, therefore, are perfection. The rich and powerful in Hollywood often believe they're invincible, free from both criticism and punishment, due to their rich and powerful status. But thanks to both Sabo and the internet, those power trips are limited. The first step is calling out the problem, exposing it to air.
For more Sabo:
For more on Hollywood's real rape culture:
NOT SUBSCRIBED TO THE PODCAST? FIX THAT! IT'S COMPLETELY FREE ON BOTH ITUNES HERE AND SOUNDCLOUD HERE.