Each day we overwhelm your brains with the content you've come to love from the Louder with Crowder Dot Com website.
But Facebook is...you know, Facebook. Their algorithm hides our ranting and raving as best it can. The best way to stick it to Zuckerface?
Sign up for the LWC News Blast! Get your favorite right-wing commentary delivered directly to your inbox!
Liberal Media
Newspaper Accuses Ron DeSantis of Using 'Fake News Site' for Fundraising, Exposes Itself as Fake News Instead
April 05, 2022
Ron DeSantis has broken people. He has ruined his haters. DeSantis has turned their brains into more pudding than old age has done to Joe Biden. To quote a friend who isn't as enamored with America's Governor as I am "for the love of g-d, can people who don't like him stop being idiots about it, you're not helping." It can be about anyone. Today, it's specific to the Miami Herald.
Here's their current anti-DeSantis headline. I'm going with the screen capture because methinks it'll be stealth edited shortly.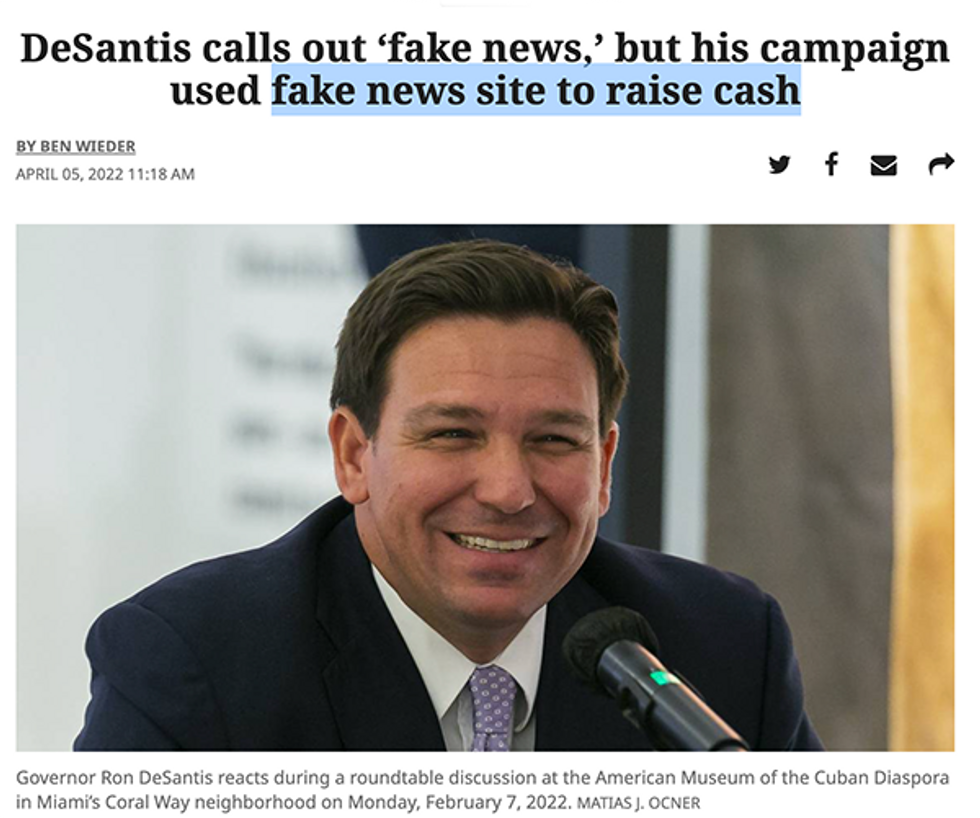 Ron DeSantis does call out "fake news" on the regular. So much of it gets thrown at him. The words "60 Minutes" come to mind. As do the words "Don't," "Say," and "Gay." If this headline is accurate, I can see how critics would view DeSantis as being hypocritical.
Then you start reading:
"In messages to supporters, Florida Gov. Ron DeSantis isn't shy about labeling 'fake news media' the enemy. But when it comes to raising money for his re-election bid, the Republican governor's campaign and an associated political committee have sought help from a satire website with the tagline "Fake news you can trust.'"
The Babylon Bee. He rented out the Babylon Bee's mailing list. Yes, THAT Babylon Bee.
A reporter was so desperate to land a shot on Ron DeSantis, that they called a satire site "fake news." And they know it's a satire site because they acknowledge it as a satire site in the SECOND SENTENCE OF THE ARTICLE.
"Fake news you can trust" isn't a mission statement. It's irony. It's humor. You know this because The Babylon Bee is a humorous site. Not unlike The Onion. Or sites that are unintentionally satirical, like the Miami Herald.
There is also nothing odd about a campaign renting a mailing list. Campaigns do it all the time. The DeSantis campaign does it all the time, which is acknowledged in this article a few paragraphs down. You have to click the link to read it to know. People will just retweet it and call DeSantis a hypocrite which is the intent of an article like this. Retweets, or headlines on palm cards.
Because dollars to donuts this article started with Nikki Fried or Charlie Crist calling the Herald to ask, "Hey, can you write this article for us" and the reporter saying, "Sure, I have no self-respect."
The Louder with Crowder Dot Com Website is on Instagram now!Follow us at @lwcnewswire and tell a friend!
Oreo's 'Coming Out' Commercial: What Is Even Happening Here? | Louder With Crowderyoutu.be